If you can't find the answer to your question in the support items below then please contact us at support@stack.services
The following dates are important:
6th June at 14:00 (UK time) – ePoster Webinar (Link to recording)
1st August Optional

– Publish your ePoster by 1st August to be considered for the AMEE 2019 Best ePoster Prize

16th August 2019 – Deadline for mini posters
20th August 2019 – All ePosters will be added to the Showcase
24-28th August 2019 – ePoster Helpdesk at AMEE
Webinar
Need a quick guide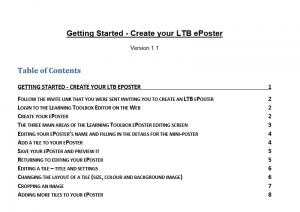 We know that some people find it easier to follow a written guide, so we have produced this short guide that takes you through the key steps involved in making a simple ePoster. If you prefer written guides or are short of time then this guide may be a more helpful place for you to start. Getting started – Create an LTB ePoster for a conference v1.1
AMEE ePoster Prize 2019
For AMEE TEL Symposium Authors
If you are the author of an ePoster for the AMEE 2019 TEL Symposium (to be held on Saturday 24th August) then there are some extra instructions regarding your ePoster from the TEL Committee. Please find these instructions in the link below.
How ePosters allow you to add richer content
Answers to Frequently Asked Questions (FAQs)
Co-authors
Adding content and resources to my ePoster/stack
Changing the layout and appearance of a tile
Adding an extra screen/layer to my ePoster/stack
Viewing and testing my ePoster/stack
Creating my mini-poster and finalising my ePoster/stack
Presenting my ePoster