Key Information
General Overview
Learning Toolbox supports an exciting new approach to ePosters (and more generally content sharing) at online, hybrid and onsite conferences and events.
Using Learning Toolbox you will create a Stack/ePoster (a collection of material that could include a presentation, video, weblinks and more) that you can use to present and share your work at the event.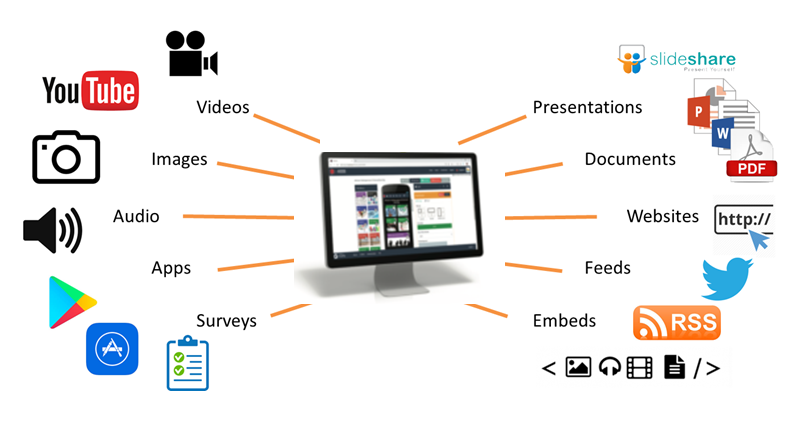 People will be able to easily view and interact with your ePoster by browsing the online ePoster showcase. Your ePosters will be available for people to explore throughout the event and can also be presented in a scheduled session if your event supports this.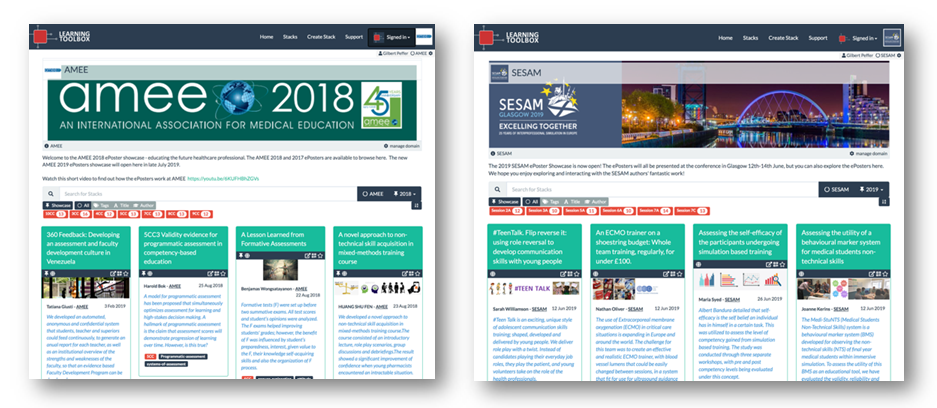 Viewers can open your ePoster and explore all the rich content you have added. Viewers can also post questions or comments to your ePoster, to which you can respond. This text chat discussion will be attached to your ePoster and can continue after the event. Viewers can also favourite your ePoster so that they can return to it more easily.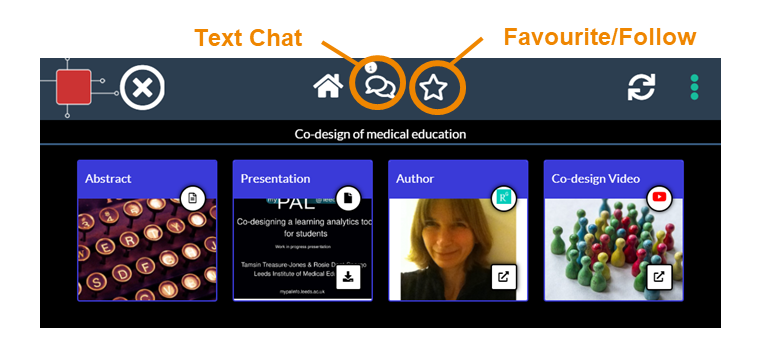 Your ePoster will also live beyond the event, as you can continue to share it and (in some cases) even add to it after the event.
Your ePoster can even have a physical presence in the real world. Within Learning Toolbox you can create a mini-poster that acts as an advert for and gateway into your interactive ePoster. People can simply scan the QR code on the mini-poster and your interactive ePoster will open on their phone/tablet.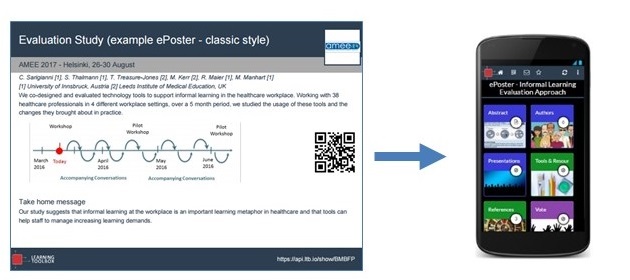 Onsite and hybrid conferences will print these mini-posters and use them as a way of promoting the ePosters onsite. You can of course print the mini-poster yourself and use it wherever you want to promote your work and provide access to it.

Many conferences are now using Learning Toolbox to present, share and discuss research. We have seen some great examples of ePosters/stacks created by authors attending these conferences. The 3 minute video below explores some of the great ePosters made by authors using Learning Toolbox.
You can see and interact with these great ePosters (and more) on the Learning Toolbox Showcase. These ePosters are live and still being used by authors to present and share their work. You will see that they vary in terms of what content they include and how they are structured, but they have all made great use of the platform to present their work.
Of course your own ePoster/stack does not need to be as sophisticated as these examples – a simple and effective ePoster/stack may just contain the abstract, a presentation and a link to a website for example. But we hope these examples may give you an idea of what is possible and some ideas of the type of material you could include to give people a richer view of your work.
We would like to thank the authors of these ePosters/stacks for agreeing to their excellent work being showcased here. If you have come across any brilliant Learning Toolbox ePosters that you would like to see added to this showcase then please let us know so that we can contact the author and ask for their permission to add them.
Creating an ePoster/Stack
This video gives you a very quick tour of the Learning Toolbox editor. We recommend that you play this video in full screen.
Press the full-screen icon

at the end of the play bar to play in full-screen.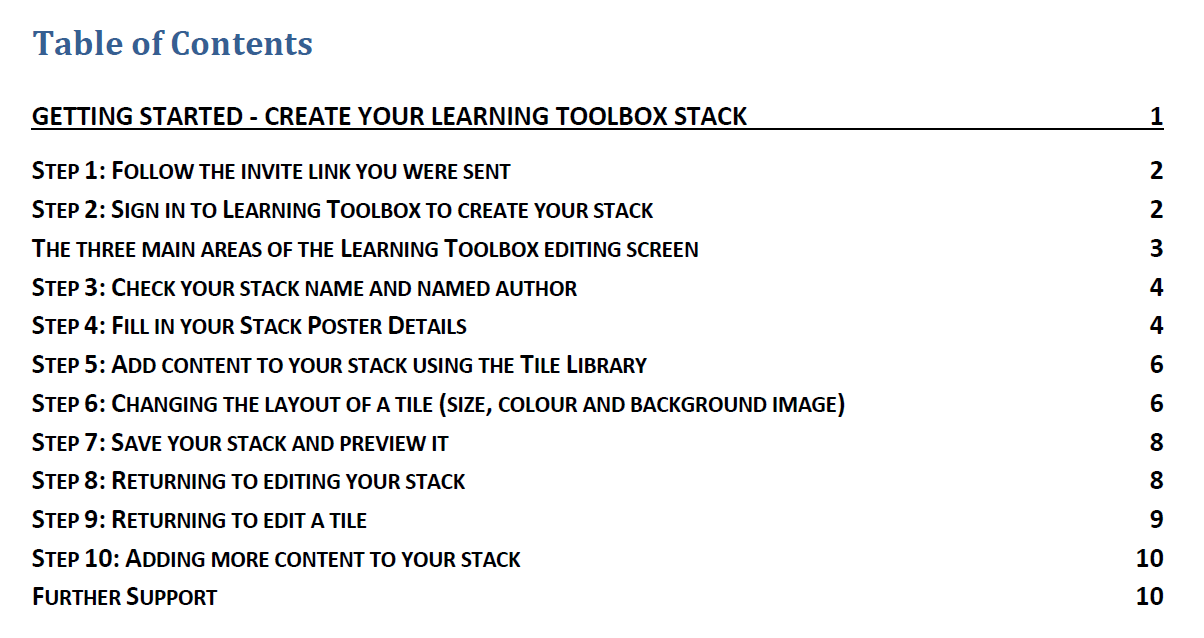 We know that some people prefer to follow a written guide, so we have produced this short guide that takes you through the key steps involved in making a simple ePoster/stack for a conference.
Getting started – Create an LTB stack for a conference v2.0 (updated 23rd May 2020)
Answers to Frequently Asked Questions (FAQs)
Co-authors
Currently Learning Toolbox does not support live collaborative editing of an ePoster by multiple authors. Instead each ePoster has one person who takes on the editing author role.
​
If you have been sent an invite link to create an ePoster for a conference, then the first person who follows that link will be given the editing role.
The person who takes on the editing author role will be able to add their co-authors' names to the ePoster by adding their names in the
Stack Poster Details Tab
and can also specify who will appear in the summary view as the
Named Author
. However, their co-authors will not be able to edit the ePoster.
The editing author can also share the link to the ePoster with their co-authors (
How do I share an ePoster from my computer
) so that their co-authors can view the developing ePoster and email them with any feedback or suggestions. If they do this then they should make sure they change the ePoster permissions from Private to Hidden and Anonymous Access (
How do I set access permissions
) before sending the link to their co-authors.
If your co-author has followed the invite link after you then they will get a message explaining that the link has already been used. If you would like to switch the editing role to them then just contact support (the team who are supporting your use of Learning Toolbox) and they will be able to do this for you.
The Named Author space (1) allows you to decide which author's name you want to appear on the summary view of the stack/ePoster in the showcase.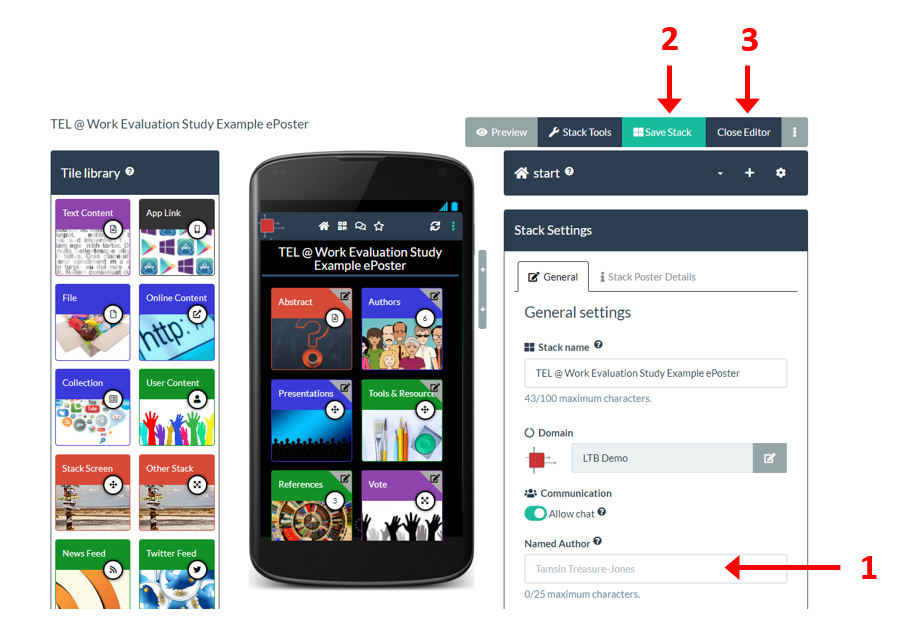 The default is that the editing author's name will appear here, but you can change this to a different name. If you then save (2) and close the editor (3) then you will be able to see where the Named Author appears in your stack/ePoster's summary view (4).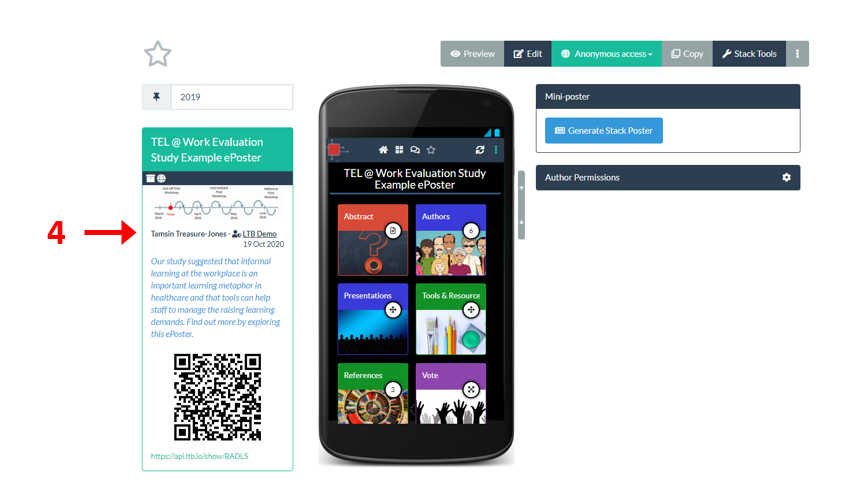 There is a character limit of 25 for the Named Author to ensure that it can be displayed within the summary view. This means you will not be able to list all the co-authors of a stack/ePoster within the Named Author space. Although you can use the academic convention of et al. to indicate within the Named Author space that there are more authors (e.g. I could edit the Named Author to be "T. Treasure-Jones et al.")
You can also add all your co-authors details within the stack/ePoster itself. Many authors add a Text Tile listing all the co-authors. Another possible approach is to add a new Screen and on that new screen to add a Tile for each author which links to their professional webpage.
Adding content and resources to my ePoster/stack
Changing the layout and appearance of a tile
Adding an extra screen/layer to my ePoster/stack
If you are adding a lot of material to your stack then you may find it useful to create an extra screen. You can do this by using the Stack Screen tile. This will allow you to add a tile that creates and opens a new screen.
To create an extra screen:
Add a stack screen tile to your stack (1)
The settings area will show which screen that tile is currently pointing at. Click on the down arrow (

2

) next to the target screen name and then choose "Create New Screen" from the menu that appears.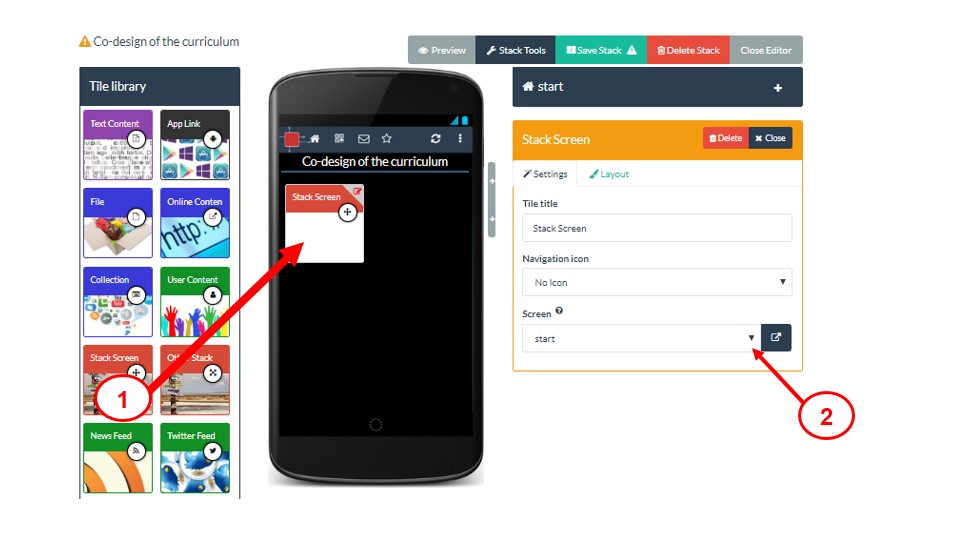 This will immediately create a new empty screen (which will be connected to the stack screen tile you added) and move you to that empty screen
It will give it a default screen name (

3

) which you can edit and change to something more meaningful
You can now add new tiles to this screen as normal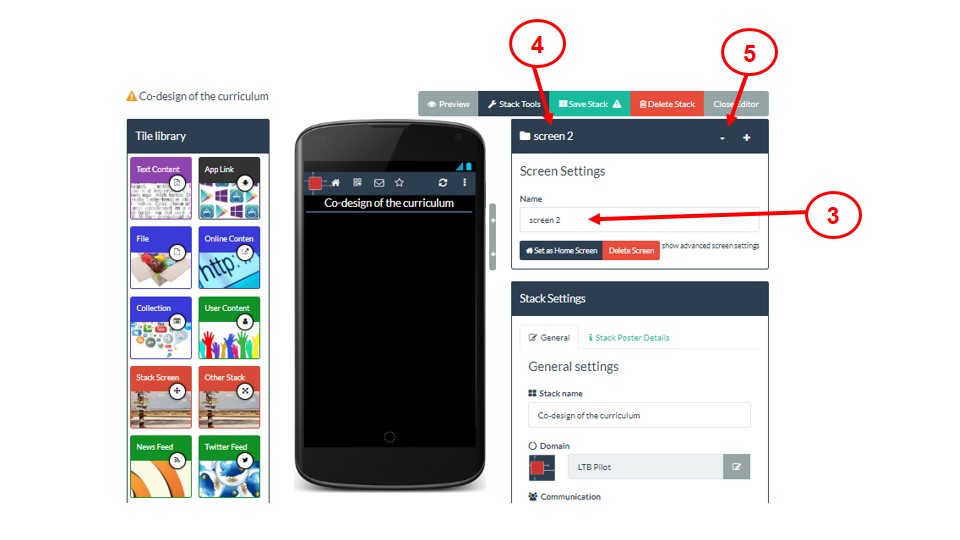 Note that there is always a bar visible in the window that shows you the name of the current screen you are editing (

4

)
When you want to move to another screen (e.g. back to the start screen) you can just click on the menu next to the current screen name (

5

) and choose the name of the screen you want to move to
Viewing and checking my ePoster/stack
If you want to preview and check your ePoster in a web browser then you can just press the preview button (1) and the ePoster will open in the viewer. What you see here is what your ePoster viewers will see if they are viewing your ePoster in a web browser on a computer or tablet. From here you can click on the tiles (2) and check that it is working as you expected. Once you are finished then just click on the X button (3) to close the viewer and return to the editor.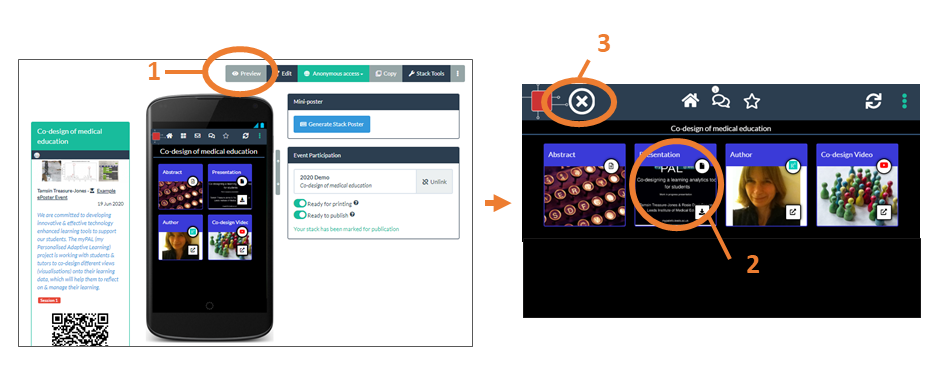 What you see in the preview is exactly what the conference organising team sees when they check and publish your ePoster. So the preview allows you to be sure the ePoster is working as you want and you know that the conference team will see exactly the same.
You can change the permissions of your stack to determine who can open it and whether it shows up in searches.
To do this sign-in and open your ePoster as usual, but do not click on the Edit button. Instead next to the Edit button you will see the access permissions button that indicates what permissions your stack currently has (Private, Restricted or Public). If you are still developing the stack then it is probably still set as Private. If the conference has just finished then it is probably set as Public. 
Click on that access permissions button and you will see the drop down menu allowing you to change the access permissions for your stack.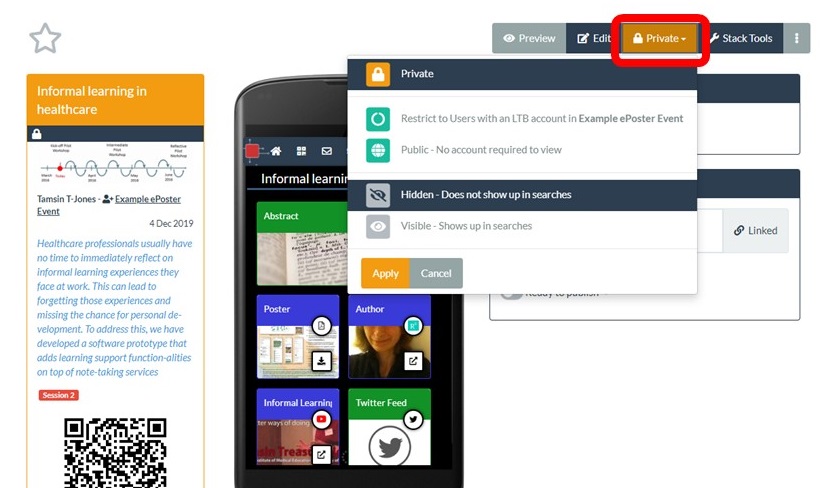 If you are still working on the stack but want to share it with others (perhaps your co-authors) so they can see what you have done, then you should change the permissions to Public and Hidden. This will mean that only people who have been sent the QR code or web address for your stack will be able to open and view it. 
If the conference has finished and you do not want your stack to be accessible any longer then you should change the permissions to Private.
If your stack is still Private then you should first set its access permissions to Public and Hidden (See How do I set access permissions?) then follow the steps in this video.
Your ePoster on the showcase website
When your stack/ePoster is published to the showcase then viewers will see its summary information (the summary box) and be able to click on its title to open and explore it.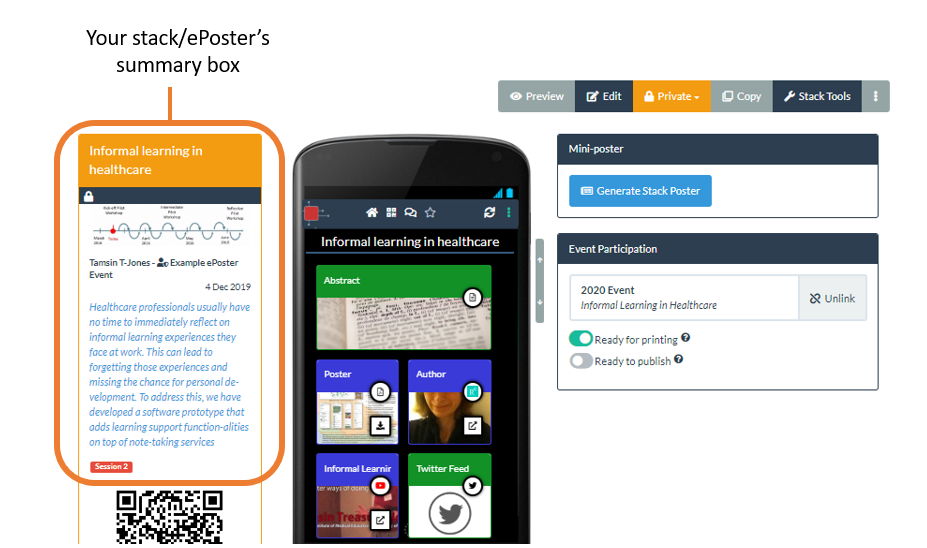 In the editor you can add extra information (description, image and tags) that will be included in this summary box. Adding more information helps your stack/ePoster stand out in the showcase and also helps your stack/ePoster to be found when people search the showcase.
To add this information to your stack/ePoster open your stack/ePoster in the editor and then:
Click on the Stack Poster Details Tab
Fill in (or check) the information (Stack name, Stack description, Image, Tags) as indicated in the image below
Save your ePoster/stack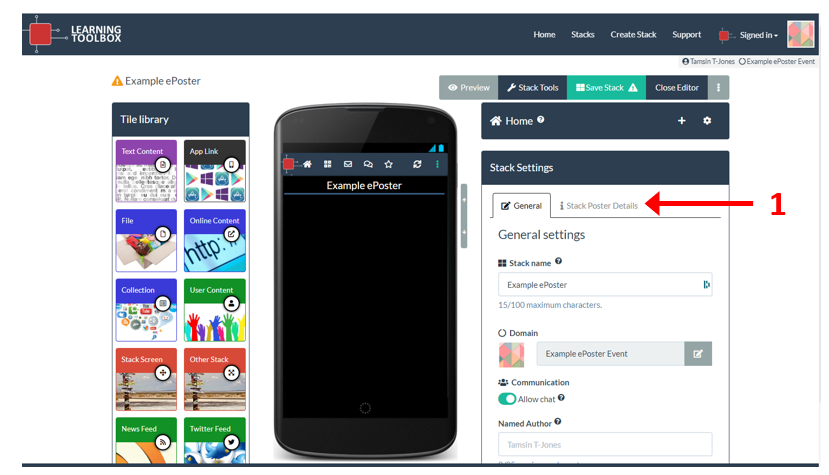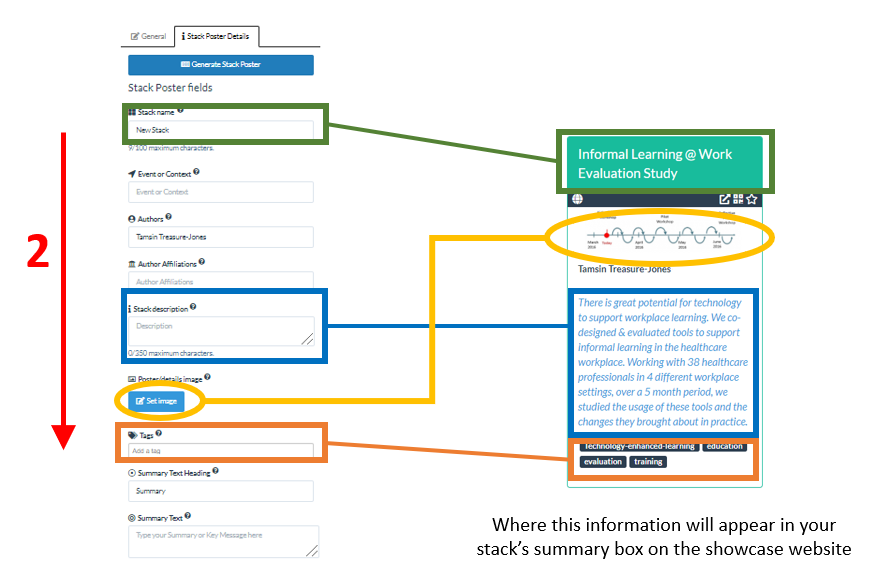 We also recommend that you add your co-authors names to the Authors information. They will not display in the summary box, but this information will be included when viewers search for ePosters and viewers will be able to see your full list of authors when they hover over the Lead Author name in your ePoster's summary. If you have many authors then we recommend just including surnames so that you do not exceed the character limit on this field which is approx 110.
You do not need to fill in the two boxes at the bottom of the Stack Poster Details tab unless your conference is using mini-posters, as this information would only appear on the printed mini-poster. Mini-posters tend to be used by onsite conferences as they are printed and displayed at the venue.
Marking your ePoster as ready to publish to the showcase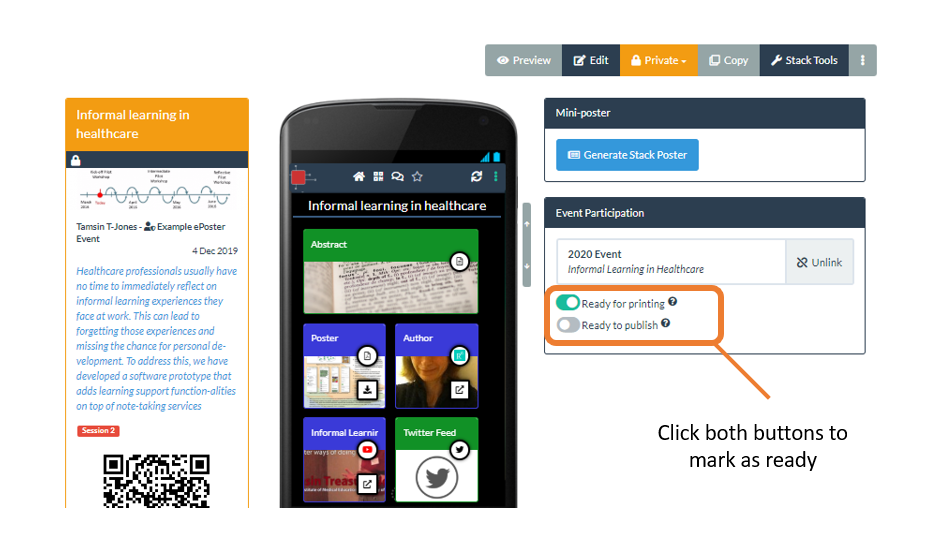 You will see this view (offering the option to mark your ePoster as ready) when you have closed the stack/ePoster editor.
You need to click on both buttons to indicate that it is ready to print and ready to publish. In fact there will be no printing done for online only conferences, but you still need to click the ready for printing button. In future this button will be removed for online only conferences.
We strongly recommend that you preview your stack/ePoster and check that it works as you expect, before you mark it as ready to publish.
Marking your stack/ePoster will let the administrators know that your stack is ready. It will not be published to the showcase immediately, as the administrators will take that action and they may have many stacks/ePosters to review. However, once it has been published then you will see a message onscreen indicating that this has been done (as shown in the image below).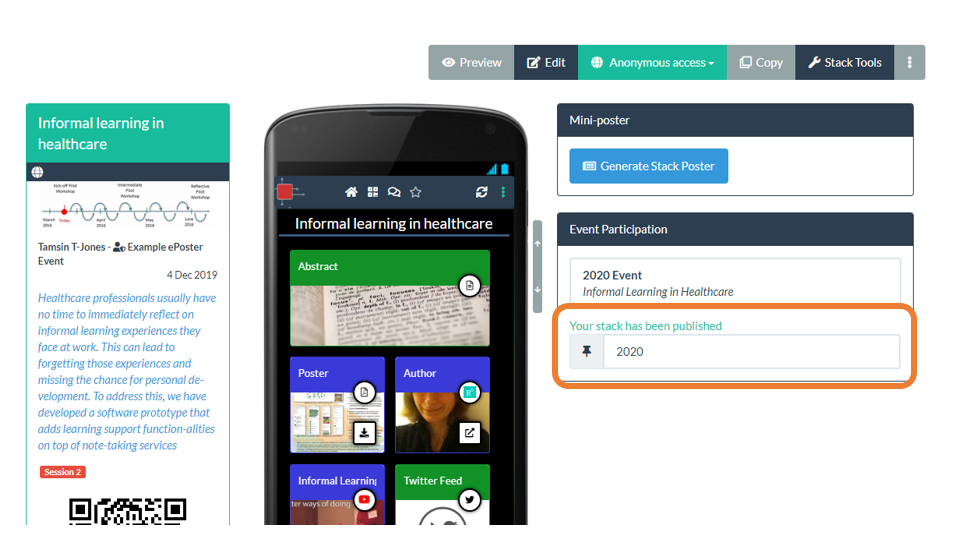 If you do not see the buttons that allow you to mark you ePoster as ready then this will be because you are creating a stack/ePoster that is not linked to a conference/event invite with a showcase. In this case you can instead make your ePoster public yourself by changing its access permissions.
Creating the mini-poster
An option usually used by onsite conferences to promote your ePoster onsite.
Presenting my ePoster/stack (General advice)
The exact details of how to present your ePoster (the time available, whether th ePosters are presented onsite or online etc.) will vary from conference to conference.
However, we have below some general advice on presenting Learning Toolbox ePosters at conferences and how to practise your presentation.
Exploring and sharing published ePosters/stacks
Engaging with the viewers of your ePosters/stacks
Using templates
Some conferences have introduced templates for their ePosters/stacks. If your conference has a template then when you click on Create Stack (1) then you will be offered the choice of either Creating from an empty stack or using a template (2).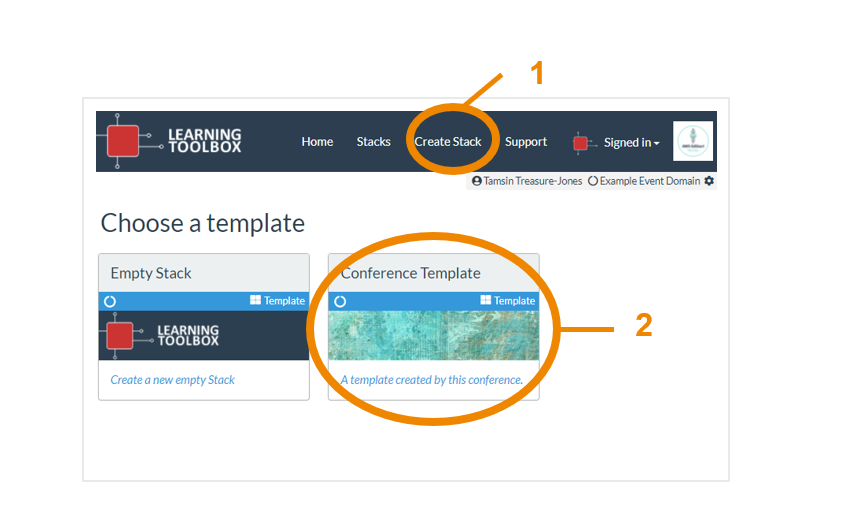 Your initial ePoster/stack will then be created using the template and you will be taken to the editor. In the centre of this screen you will see a mobile view of your ePoster/stack (3) containing the tiles (content) from your conference template. On the right you will see the general stack settings area (4) where you can add the summary information about your ePoster/stack. On the left is the Tile Library (5) which you can use later to add extra tiles/content to your ePoster.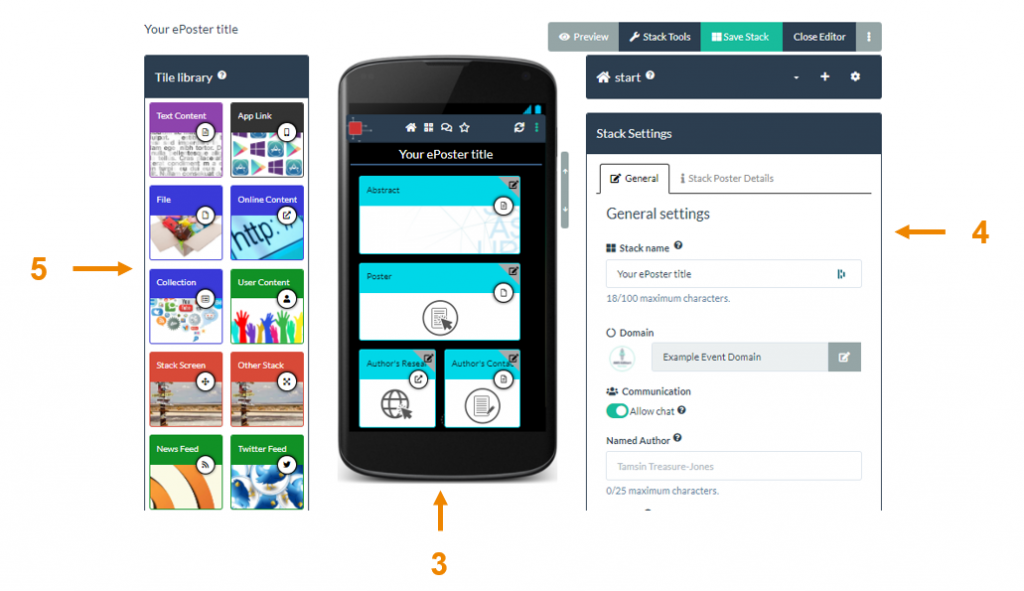 The mobile view with the tiles shows the information your conference is expecting you to include. You should edit each Tile to add the information they have requested. To edit a tile click on the tile edit icon (6) on its top right hand corner. The settings area (7) will then change to indicate what type of content you can add to this Tile. Add it here in the settings area. You can also change the tile's layout if you wish. Remember to save (8) your ePoster/stack regularly.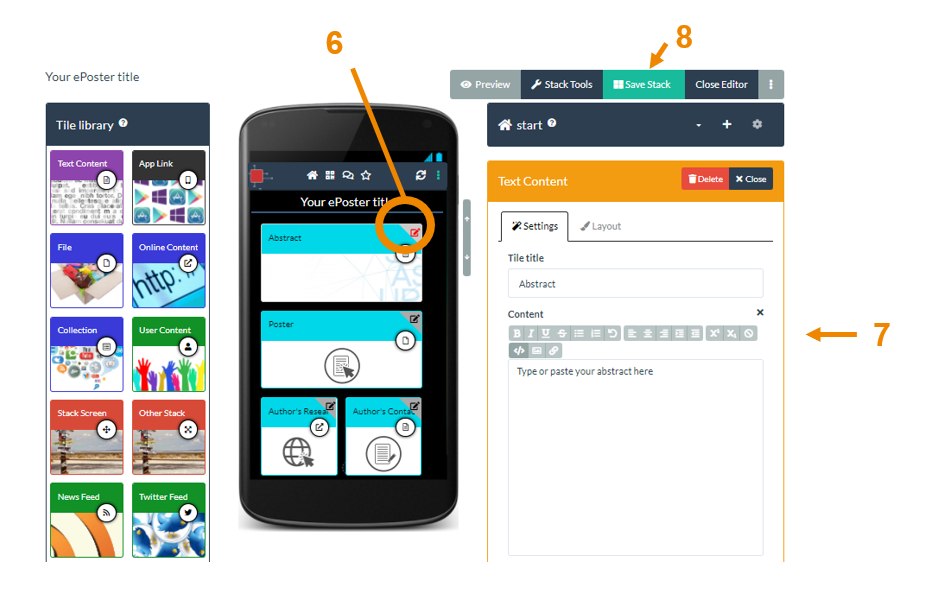 When you have finished editing all the tiles that are in your ePoster/stack then you should also fill out your ePoster's summary information in the Stack Poster Details tab (9) in the General Settings area. This summary information is used when people search the ePoster showcase, so it will help people to find your ePoster. You can also choose to add more tiles/content to your ePoster/stack using the Tile Library (10). You simply drag and drop the relevant tile from the library into the mobile view of your ePoster/stack and then add the required information in the settings area. Again, remember to save your ePoster before closing the editor or leaving the webpage.