Contents
Go to Event Admin Support Page
The focus of this guide
This guide covers the fourth of the key stages involved in setting up and managing an ePoster event in Learning Toolbox:
Setting up an event and inviting authors
Monitoring and supporting your authors
Printing mini-posters and publishing ePosters
Onsite preparations and requirements
Setting up next year's event
Whilst the preparations might not start until close to the event, it is worth reviewing this stage much earlier to ensure that you can have everything you need at the venue.
ePosters onsite – some examples
This 3 minute video that shows different ways that conferences have set-up and used the ePosters onsite. Its a great way to quickly get an idea of what is possible. Some conferences choose to keep things very simple – just using the mini-posters and having the ePosters as on-demand, browsable content rather than having scheduled presentation sessions. Other conferences choose to add screens or use presentation rooms and give all or some of their authors the chance to present their work live. Other conferences set-up round table sessions in which authors and delegates can meet to discuss their work.
The following sections in this guide give some recommendations on how to set things up onsite as well as identifying the extra support and promotional material we have provided which you can adapt and use.
Onsite set-up
The following sections give some recommendations on how to set-up the mini-poster wall, presentation spaces and/or round table spaces onsite.
Guidance on setting up mini-poster walls
The Wall (or Cube) should provide enough space to hold the expected number of A5 mini-posters without them looking too crowded or hung to high/low for people to read.
To showcase around 100 mini-posters a 1.5 x 1.5 meter cube or a 6 meter stretch of wall is needed. It should have a height of at least 2 meters. This dimensions ensure that you can display the mini-posters in a range that is not too low or too high for most people to read.
Conference organisers need to take into account that in the direct vicinity of the wall there will be a higher use of Wi-Fi by conference participants browsing and scanning the mini posters using their own mobile devices. Ideally you would boost the Wi-Fi in this area (in particular increasing the number of connections that can be made) and also check that the area has a good mobile data signal for those delegates who choose to use their own phone's data.
We recommend siting the mini-poster wall in a central area such as the registration desk or refreshments. An area where people can easily browse.

Summary of requirements
Centrally located within view of the helpdesk (if using a helpdesk)
Sufficient wallspace (see description above for estimates)
High Wi-Fi connection capacity (see description above)
Good mobile phone data signal
Guidance on setting up presentation spaces
Typically, conferences schedule short ePoster presentations in a timetabled session. The presenter can present their ePoster directly from the web browser on a computer connected to the internet (a good and reliable internet connection will be required). Therefore, these presentations can usually be done within a standard presentation room with standard AV equipment.
Alternatively some conferences choose to use screens in a more public area, such as an exhibition space or foyer. Again these screens need to be connected to the internet. If using a more open, public space then it is important to consider the acoustics and whether the audience is going to be able to hear the speaker. Generally the choice between using presentation rooms or more public spaces will depend on how big an audience you are expecting.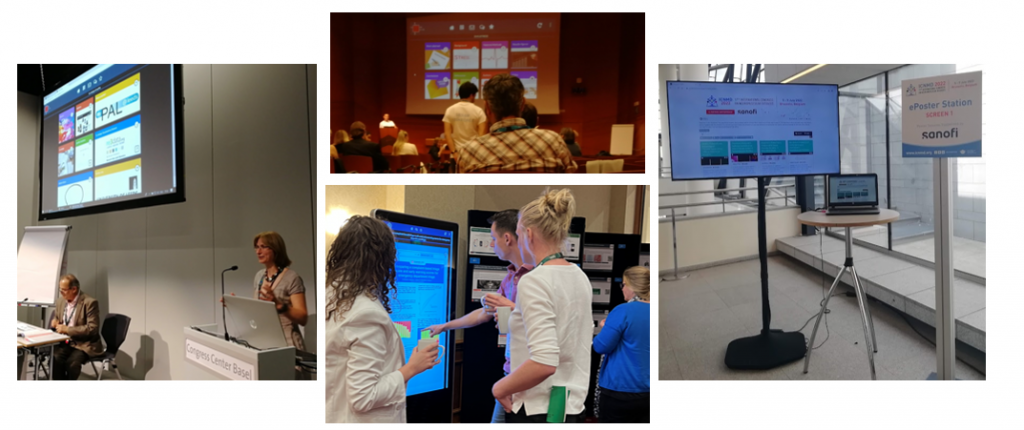 We recommend that the Chrome web browser is installed on the presentation screen (or the computer connected to it) and that its home page is set up to the ePoster showcase page for this conference. When presenters arrive the browser should be open showing the showcase page. When it is their turn to present, each presenter can open their ePoster and present any of the material that they included within it. If you have put your ePoster's into sessions then you can also filter the showcase view so that only the ePosters in that session are showing – making it easier for each author to locate and open their ePoster.
Conference organisers need to take into account that in the presentation area there will be a higher use of Wi-Fi and/or mobile data by conference participants actively participating in the session using their own mobile devices. Ideally the Wi-Fi should be boosted in this area and a check made that the mobile data signal is good.
We usually take copies of the relevant mini-posters to the presentation room, so that the participants can scan the codes of those ePosters that interest them, before and after the presentation session.
Summary
Screen with good Internet connection for presenters to use
Chrome web browser installed
Browser open and showing the ePoster showcase page
High Wi-Fi connection capacity
Good mobile phone data signal
A space to display the mini-posters associated with that session (optional)
Guidance on setting up round table sessions
Some conferences choose to run round table sessions during which delegates can meet authors and discuss their work. They usually set this up so that each round table has several authors whose work is on a similar topic. During the session the authors and delegates meet at the round tables to discuss that table's topic and the authors work. The emphasis is on talking. The mini-posters are on the table, so they can be scanned & the full ePoster content explored in detail later.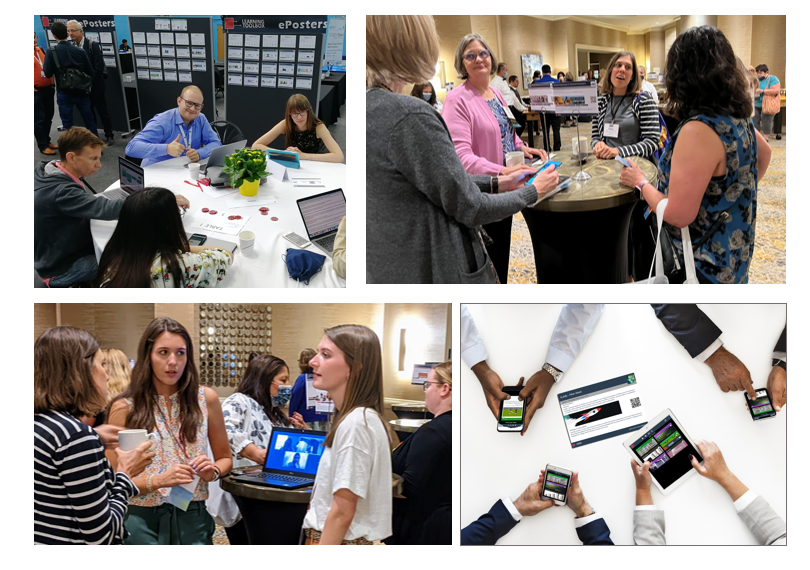 Summary
Ensure that the space has good Wi-Fi so that authors can show parts of their ePoster (on their own devices) if they want to.
Encourage delegates to explore the ePoster content (from the showcase or the mini-poster walls) before the session, so that the session is more focused on discussion rather than presentation.
Include a copy of the relevant mini-posters on each table so that delegates can scan and favourite those that most interest them.
Internet connectivity and bandwidth recommendations
In principal Learning Toolbox does not need more bandwidth than other web-based solutions, but it may add to your overall bandwidth needs since it adds a potential additional demand.
Learning Toolbox comes into the Medium to High usage band (depending on what type of content people include in their ePosters) described in this article https://www.encore-anzpac.com/events/calculating-bandwidth-for-meeting-and-event-planners-made-easy
We recommend that you use the calculator in the above article to estimate your total required bandwidth for your event. When making this calculation we recommend that you assume that people come to the event with multiple internet-connecting devices (this is typically what we see nowadays).
In addition, we recommend that you liaise with the onsite IT team to check that the Wi-Fi in key areas (such as the mini-poster wall and presentation rooms if you are using those for ePosters) will allow enough connections. As people tend to carry multiple devices and the devices stay connected even when not in use, then this may need them to allow more than 1 connection to 1 person in such hotspots.
Extra support materials that you can adapt and use
Guides for your authors and chairs taking part in live presentation sessions
It is understandable if both presenters and chairs feel a little apprehensive about ePoster presentation sessions, as this is a new format. However, it is simple for them to practise ahead of the conference.
In the Extra Materials section of the Event Admin Support Page we have added some presentation guides – a short guide for presenters and a short guide for Chairs. You can download and edit these guides. Authors can also find the general presentation guide for presenters on the FAQ Page.
We recommend that you share this information with them and encourage the presenters to practise their presentations as described in the guide and encourage the Chairs to look at the showcase ahead of their session.
Instructional images – for use on Twitter etc.
We recommend tweeting about the ePosters and encouraging authors to tweet and share their ePosters. As this ePoster approach is new then it is helpful to ensure that people are aware of it and know how to find, explore and engage with the ePosters.
You can follow our twitter account @LTBePosters if you want to see what type of twitter activity we engage in during the conferences we are supporting.
In the Extra Materials section of the Event Admin Support Page we have included a PowerPoint file with some editable images that we use during conferences to help make people aware of the ePosters' functionality. If we are supporting a conference then we usually use these images in tweets before and during the conference to make sure delegates are aware of all the different ways they can engage with the ePosters. Of course you can adapt and re-use these images in any way you want.
Instruction sheets for the mini-poster walls
As well as printing and displaying the mini-posters we recommend that you include some guides on the mini-poster wall, directing people how to use the ePosters.
In the Extra Materials section of the Event Admin Support Page we have included some instructional sheets for the wall. You can download, adapt and use these if they are helpful.
The focus of the next guide
This next guide covers the fifth key stage involved in setting up and managing an ePoster event in Learning Toolbox:
Setting up an event and inviting authors
Monitoring and supporting your authors
Printing mini-posters and publishing ePosters
Onsite preparations and requirements
The guides are all accessible on the Event Admin Support Page. You can also get to that page from the Event Management area of the Admin Screen as shown below: