If you can't find the answer to your question in the support items below then please contact us at support@stack.services
Using templates
ECER has templates that you can use to start creating your ePoster if you want.
Answers to Frequently Asked Questions (FAQs)
Co-authors
Currently Learning Toolbox does not support live collaborative editing of an ePoster by multiple authors. Instead each ePoster has one person who takes on the editing author role.
​
If you have been sent an invite link to create an ePoster for a conference, then the first person who follows that link will be given the editing role.
The person who takes on the editing author role will be able to add their co-authors' names to the ePoster by adding their names in the Authors field in the mini-poster section (
How I make my mini-poster
). However, their co-authors will not be able to edit the ePoster.
The editing author can also share the link to the ePoster with their co-authors (
How do I share an ePoster from my computer
) so that their co-authors can view the developing ePoster and email them with any feedback or suggestions. If they do this then they should make sure they change the ePoster permissions from Private to Hidden and Anonymous Access (
How do I set access permissions
) before sending the link to their co-authors.
If your co-author has followed the invite link after you then they will get a message explaining that the link has already been used. If you would like to switch the editing role to them then just contact support and we will be able to do this for you.
Adding content and resources to my ePoster/stack
Changing the layout and appearance of a tile
Adding an extra screen/layer to my ePoster/stack
If you are adding a lot of material to your stack then you may find it useful to create an extra screen. You can do this by using the Stack Screen tile. This will allow you to add a tile that creates and opens a new screen.
To create an extra screen:
Add a stack screen tile to your stack (1)
The settings area will show which screen that tile is currently pointing at. Click on the down arrow (

2

) next to the target screen name and then choose "Create New Screen" from the menu that appears.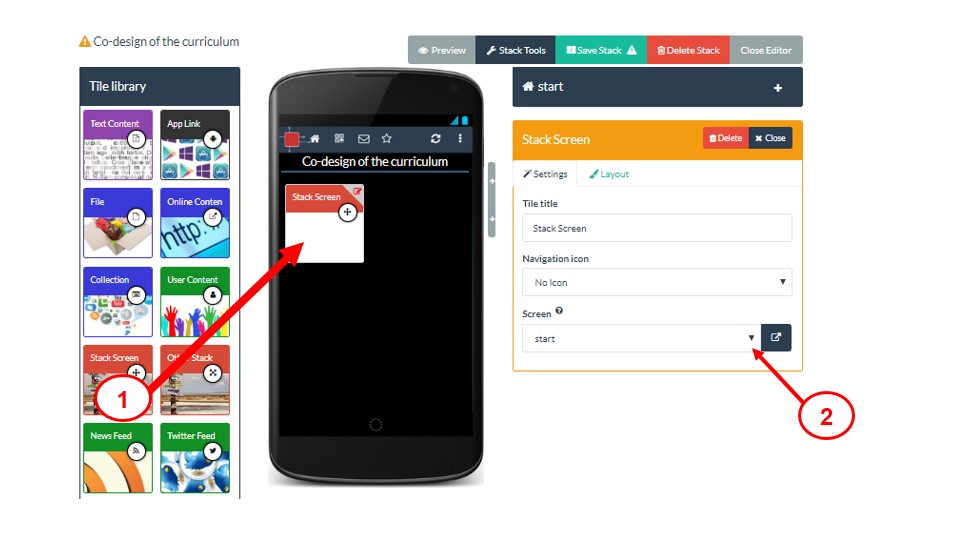 This will immediately create a new empty screen (which will be connected to the stack screen tile you added) and move you to that empty screen
It will give it a default screen name (

3

) which you can edit and change to something more meaningful
You can now add new tiles to this screen as normal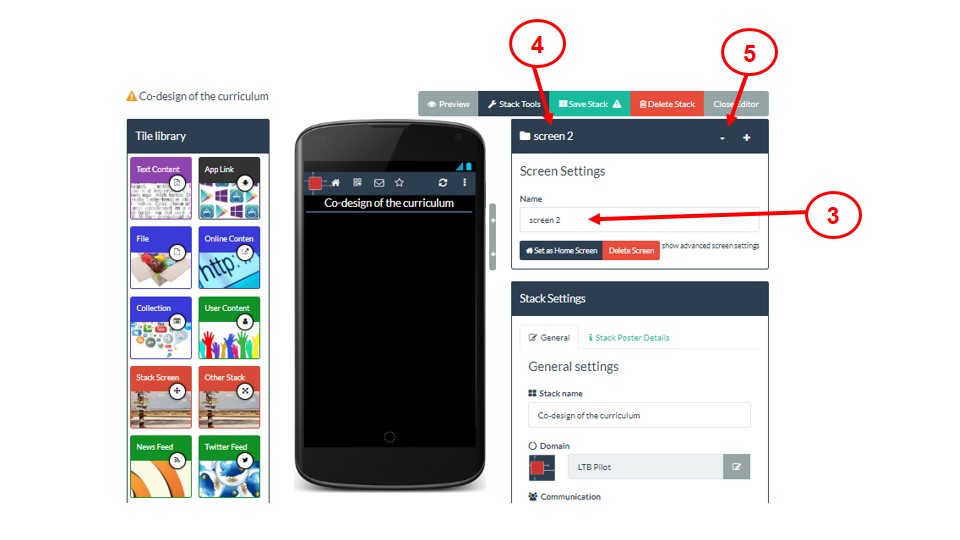 Note that there is always a bar visible in the window that shows you the name of the current screen you are editing (

4

)
When you want to move to another screen (e.g. back to the start screen) you can just click on the menu next to the current screen name (

5

) and choose the name of the screen you want to move to
Viewing and testing my ePoster/stack
If you want to preview your ePoster in a web browser then you can just press the preview button (1) and the ePoster will open in a new tab in your browser (2). From here you can click on the tiles and check that it is working as you expected.

Save your stack and Close Editor. This now takes you to the summary screen. Click on Private and you will see the drop down menu allowing you to set access permissions for your stack.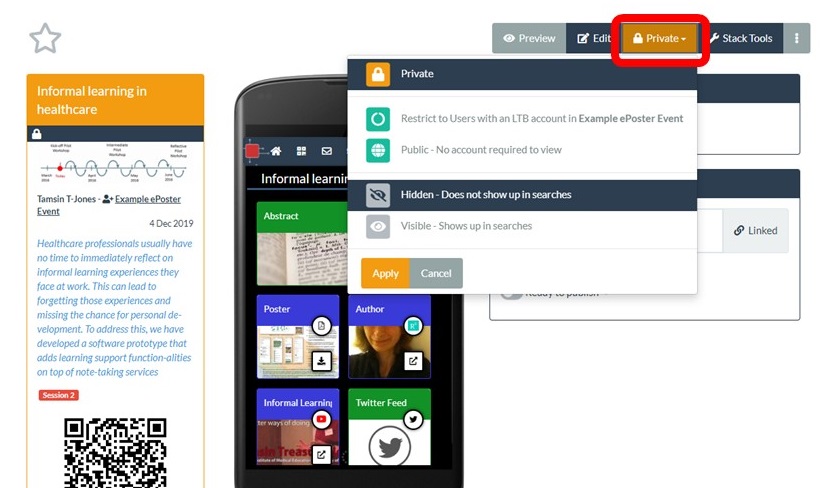 If you are still working on it but want to share it with others (perhaps your co-authors) so they can see what you have done, then you should change the permissions to Public and Hidden. This will mean that only people who have been sent the QR code or web address for your stack will be able to open and view it. 
If your stack is still Private then you should first set its access permissions to Public and Hidden (See How do I set access permissions?) then follow the steps in this video.
Creating my mini-poster and finalising my ePoster/stack
Exploring and sharing published ePosters/stacks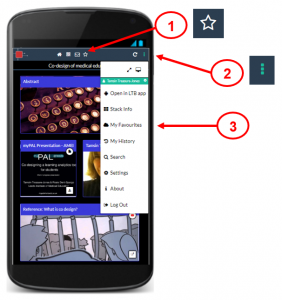 Open the ePoster in the Learning Toolbox app.
Click on the star icon (1) to favourite and follow the ePoster.
Click on the drop-down menu (2) and choose My Favourites (3) to browse all your favourite ePosters.
An easy way of sharing an ePoster with someone who you are talking to is to show them its QR code. They can scan this and view the ePoster on their own phone.
To do this you just need to open the ePoster in the Learning Toolbox app on your phone. Then open the drop-down menu (1) and choose Stack Info (2).
The screen will then show the QR code (3) of the ePoster you are viewing. The other person can use their phone to scan the QR code.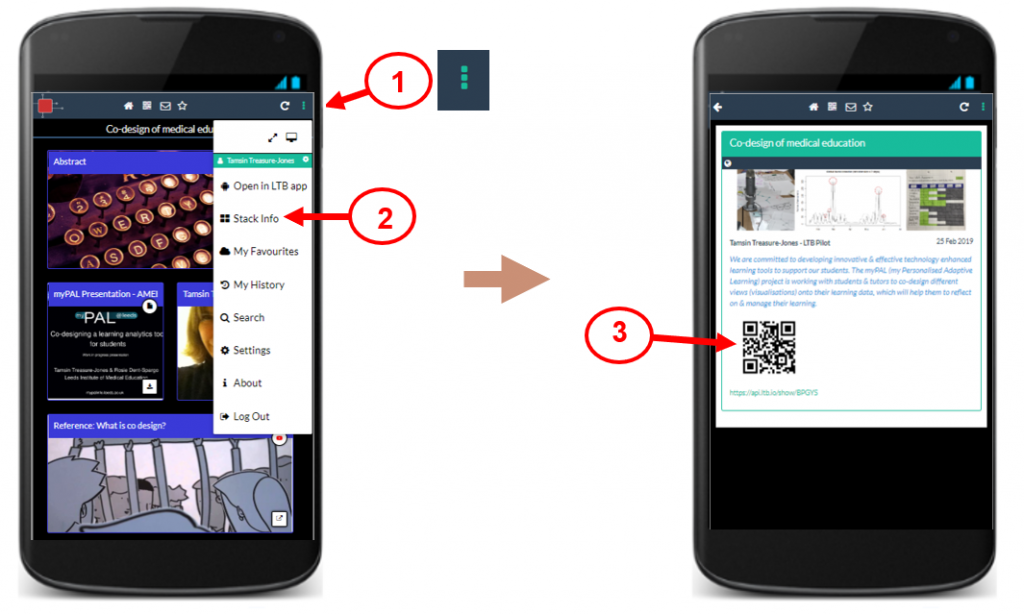 Open the ePoster in the Learning Toolbox editor. Here you can see the QR code (1) and the unique web address (2) for this ePoster. You can copy these and share them or include them in your own dissemination material about your work.