This help page gives you a quick overview of Learning Toolbox, how it works, who uses it and what for, and also how to get it and where you can find more help.
If you are looking for Learning Toolbox for ePosters, check out this introduction and the ePoster support page.
The 1-minute pitch
Learning Toolbox is a mobile platform that allows people to quickly and easily build stacks of interactive and multimedia content and information and share them with others. You can view and interact with stacks in the Learning Toolbox app or in a normal browser on your computer or mobile device.
What is a stack? A stack is a collection of documents, videos, apps, and other interactive materials that you can share with other people. Stacks often have several stack screens, like a website with its different web pages. The stack screen contains the tiles that link to your content. There are several different tile types that you can drag and drop into the stack screens to gradually build up your stack.
What is a domain? A Learning Toolbox domain is a private area in Learning Toolbox where people can organise their stacks and manage users and authors. Think of a domain as a kind of personal App Store that contains a bunch of stacks for people to explore and open on their mobile phones or tablets.
A short presentation
[embeddoc url="https://support.ltb.io/wp-content/uploads/sites/2/2020/04/LTB-for-knowledge-creation-and-sharing-A-general-presentation-EN-18-Feb-2020.pdf" download="all"]
The Learning Toolbox platform and app
The LTB platform has three key elements: the Stack Store, the Stack Editor, and the LTB App.
The Stack Store is the place where authors publish and share their stacks. If you are new to the Learning Toolbox, you might want to explore existing stacks in 'Search Stacks' and get some inspirations from stacks that others have created. If you sign up for a domain, you will get your own private Stack Store where you can manage the stacks and users in the domain.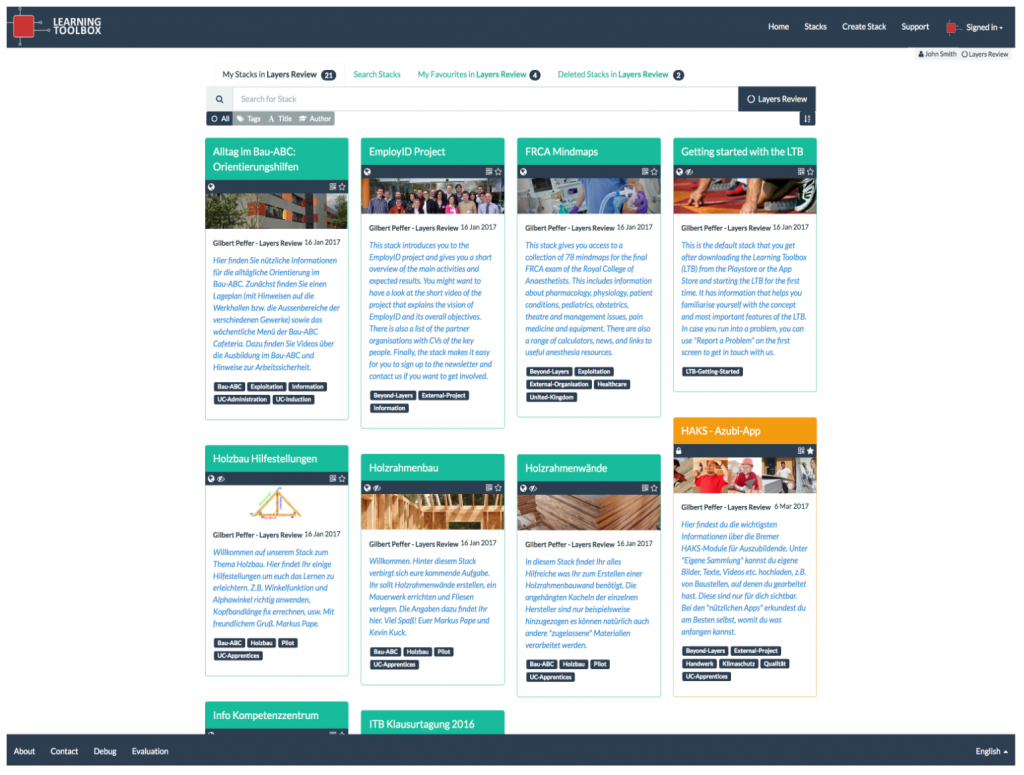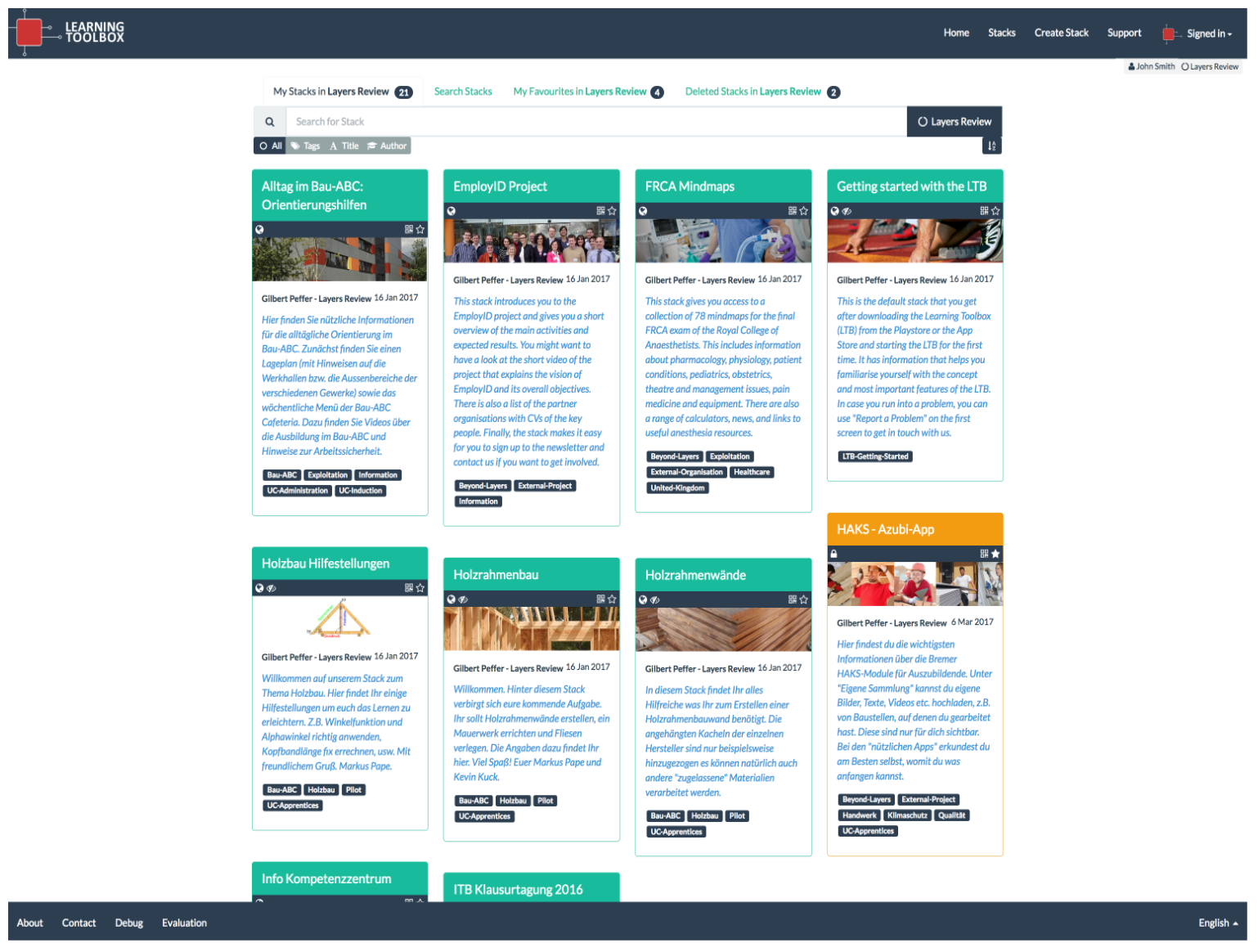 The Stack Editor, where you create your stacks quickly and without any programming skills. In a stack, you can bundle many different types of multimedia content and online resources from different places and make them available to your users. Your stack can also allow users to contribute their own learning content and share them with colleagues and friends. And a stack offers a variety of communication channels for you and your users to have a discussion and keep in touch.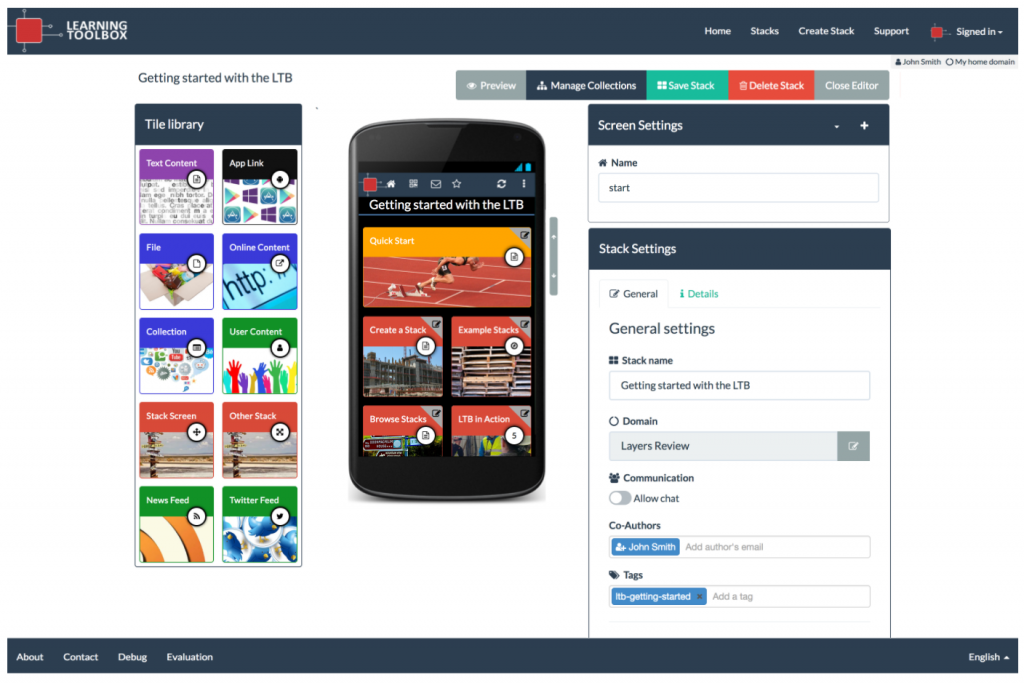 The LTB App is a convenient way for users to view and explore your stacks. The LTB App can load an unlimited number of stacks that you and others create with the Stack Editor.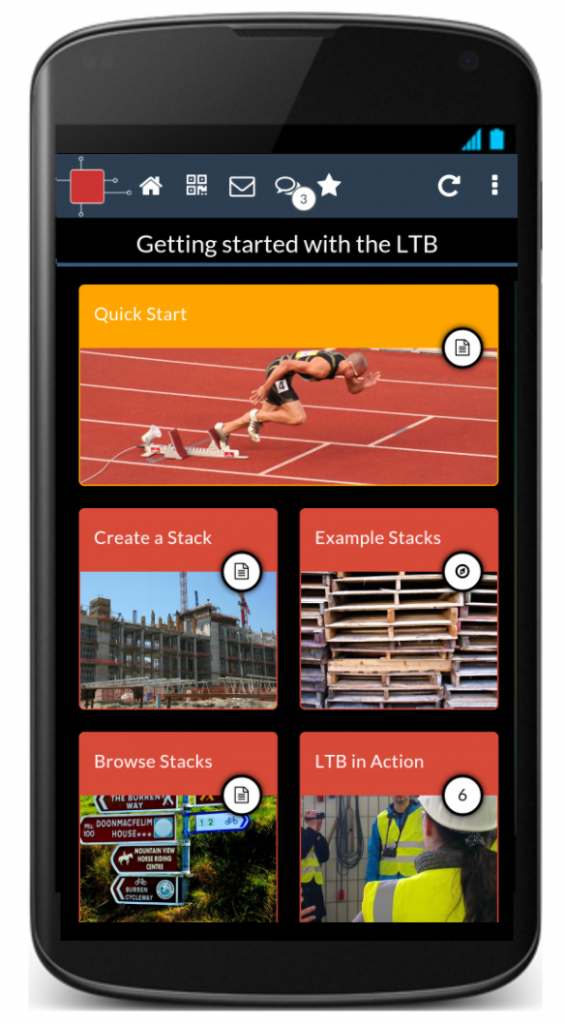 Learning Toolbox is currently being used for a wide range of applications. Here are just a few examples so you can get the idea.
Scientific associations and event organisers: ePosters at conferences, round table sessions, poster pitches, ePoster BarCamps, online conferences. poster pitches, round table poster sessions, ePoster BarCamps, reciprocal peer review in the week prior to the conference, and poster sessions with CPD credits awarded for engagement with the poster content.
Education and training centres: digital learning materials, project reporting, information leaflets, multimedia collections, operation and maintenance of machinery, e-portfolios, practice placements.
Health care organisations: professional training, cross-organisational communication and reporting, onboarding of new staff.
Companies: customer training, workshops and events, product catalogues, user manuals.
For more information, check out our website.
Create, Publish, Share
You create, publish, and share stacks with Learning Toolbox in three easy steps.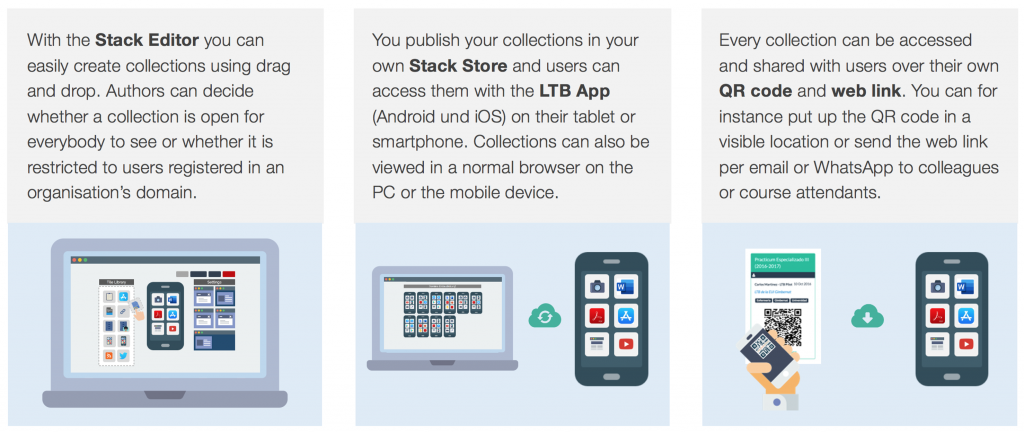 Users, Authors, Administrators
Every user of Learning Toolbox has one of the following roles:
Administrators can add and remove users from the domain, change user roles, view, edit, and change access rights to all stacks, change the domain settings, and more.
Domain Authors can create, change, and delete stacks, manage users and circles (if enabled by an administrator), copy and move their stacks between domains, and more.
Event Authors are more limited in what they can do than Domain Authors. Currently, the Event Author role is reserved for use in our event management tool and cannot be assigned directly by the Administrator.
Regular Users are users who have an account with Learning Toolbox and are signed in. They can view and explore stacks in those domains that they are a member of.
Anonymous Users are users who are not signed in to Learning Toolbox. They can view and explore publicly accessible stacks.
If you have received an invitation link or QR code to a domain, please see I have been invited to a domain as a regular user or as an author.
How can I try out Learning Toolbox?
If you want to try out creating stacks in Learning Toolbox, please contact us at info@kubify.co and we will add you to our free trial domain as an author.
If you want to try Learning Toolbox with others at your organisation and see how you can manage stacks and users in a domain, we will set up a trial domain for you and add you as a domain admin. Please contact us at info@kubify.co and tell us a little about why you are interested in Learning Toolbox and how you might use it in your organisation.
How can I buy a domain?
We have a number of flexible plans for a wide range of uses and requirements. Please contact us at info@kubify.co and tell us a little about how you plan to use Learning Toolbox. Any additional information would also be helpful, such as how many stacks you need approximately, whether stacks are public or protected in your domain, and how many users you will have.
Where can I get the Learning Toolbox app?
You can explore and interact with stacks on our Learning Toolbox app (Android and iOS) or in a normal web browser on your computer or mobile device.