The Twitter Feed Tile is used to connect to a Twitter account or Twitter hashtag and show the most recent tweets from that account or hashtag in your stack.
Why use the Twitter Feed Tile?
Authors use the Twitter Feed tile if they want to link to their own Twitter account, a project Twitter account or a Twitter hashtag that they know will be regularly posting updates related to the work reported in their ePoster. The tile titled @LTBePosters in this example ePoster is a Twitter Feed Tile.
Restrictions
We have to rely on what Twitter's API defines as "recent tweets". This means it is restricted to tweets in the last 7 days. Mentions, replies and reposts may also be included. The maximum number of tweets it will show is 15. It will return 0 tweets if it does not consider there to be any matching tweets in the last 7 days.
If the Twitter Feed Tile does not give the results that you want then we recommend that you use the Online Content Tile instead and link that directly to your Twitter account's home page.
Using the Twitter Feed Tile
Drag and drop a Twitter Feed Tile from the Tile Library into your stack (1). Give your Tile a title (2). In the search box type either a twitter account name (e.g. @LTBePosters) or a twitter hashtag (e.g. #meded) and then press the Get Tweets button.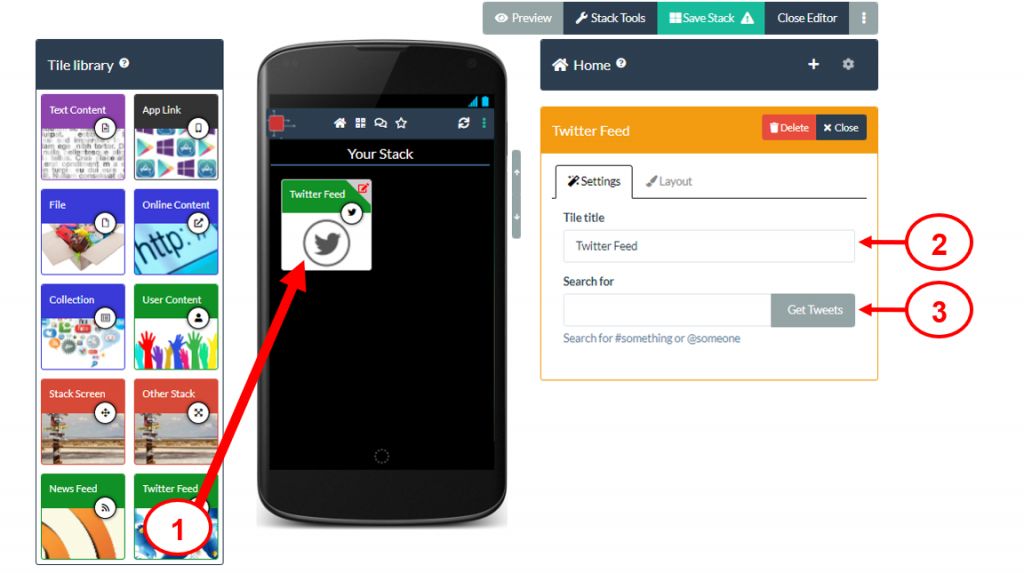 This creates a live link, so that when viewers click on this Tile they will see the most recent tweets linked to that twitter account or twitter hashtag.
Remember to Save your stack after you have added new content.