The Ketamine Conference is using Kubify's Learning Toolbox platform for the e-presentations in 2021. The conference is taking an exciting new approach that will:
Allow you to include a richer range of material in your e-presentation (powerpoint files, website links, videos, background documents etc.)
Give you the chance to present your e-presentation in a web meeting ahead of the conference and then have the video of that presentation added to your e-presentation
Promote your e-presentation at the conference itself, giving delegates an easy way to view and explore your e-presentation on their own devices. You can even have discussions attached to your e-presentation.
Provide access to your e-presentation before, during and after the conference through the showcase website or by following your e-presentation's unique web address. This means you can easily share and promote your e-presentation more widely yourself as well.
Creating your e-presentation
You will receive an email on the 8th February with a personalised invitation link to allow you to sign-in to Learning Toolbox and start to create your e-presentation.
The Ketamine Conference have created a template for your e-presentation in Learning Toolbox.
You will be able to use this template to create an e-presentation that can contain your abstract, list of authors (including links to their professional webpages), your presentation (powerpoint file, PDF file or video) and additional material (links to websites, videos or other files) if you wish.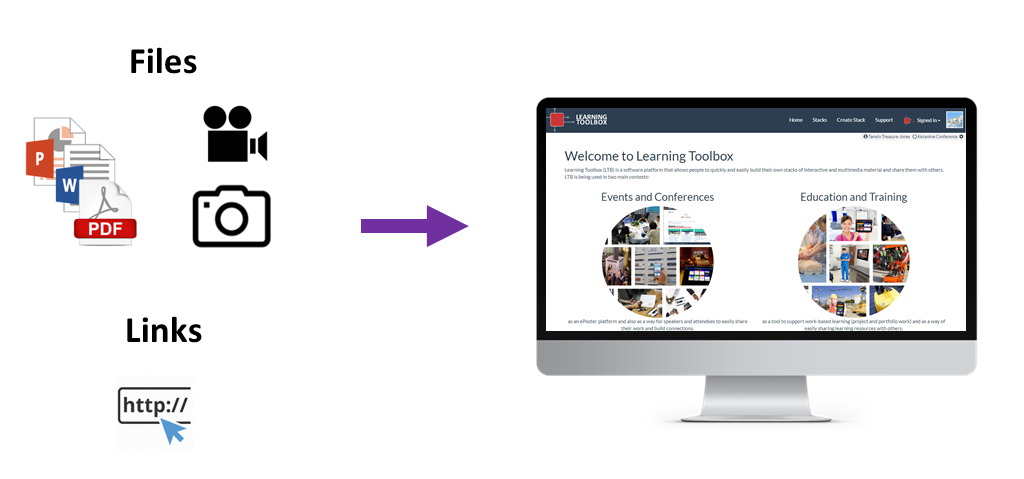 There is a written Step by Step Guide showing you how to make your e-presentation.
You should make sure you including everything you want to present in your e-presentation and that your e-presentation is ready by the 12th March.
Presenting your e-presentation during a webmeeting
You will present your e-presentation online during a scheduled webmeeting. These webmeetings will take place between the 15th and 24th March. You will be asked by the Ketamine Conference to indicate which e-presentation webmeeting you wish to present in. You can choose a 10am (UK time) or 8pm (UK time) time slot on any of the webmeeting dates. Please email kcpdregistration@archer-yates.co.uk to let them know your preferred date and time. Details of how to join the webmeetings will be sent once the schedule is confirmed.
The webmeetings will be chaired by a member of the conference committee and there will be a member of the e-presentation support team in the webmeeting. Each one hour e-presentation webmeeting will include presentations by multiple authors. Each author will have 20 minutes (this includes approx 15 minutes presentation time and 5 minutes for questions). Conference delegates will be invited to join the e-presentation webmeetings.
During the webmeeting you will be able to open your e-presentation and use any of the resources that you have added to it. We anticipate that many people will choose to add a short powerpoint presentation to their e-presentation to use in this way.
The webmeetings will be recorded and the e-presentation support team will add the video of your webmeeting presentation to your e-presentation, so that others who were not able to join the webmeeting will still be able to watch your presentation.
Your e-presentation at the conference
Your e-presentation will be promoted during the live conference (25th-26th March) and delegates will be able to browse and search the showcase website to find and open your e-presentation.
Delegates will also be able to post comments and questions to your e-presentation's chat area. Using the Learning Toolbox App you will be able to get notifications of new chat activity on your e-presentation or you can open its chat area to see and reply to any new posts.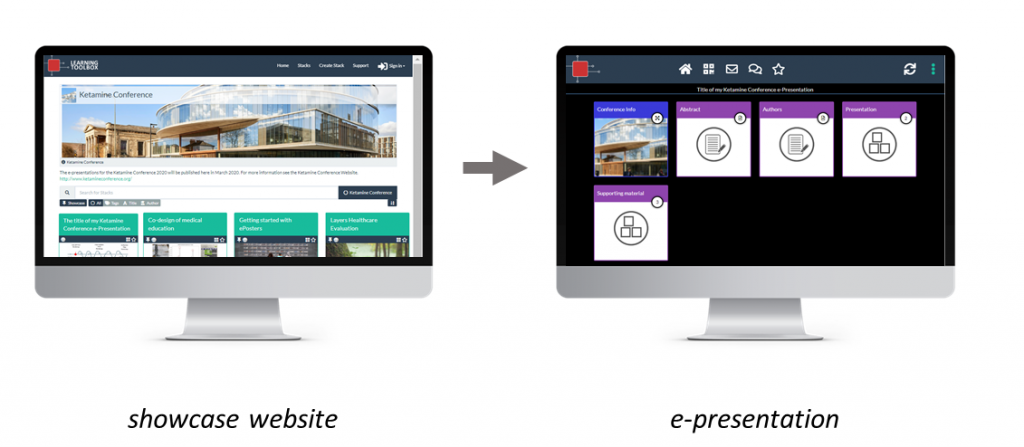 Your e-presentation will also live beyond the conference, as you can continue to share it even after the conference. You can send out messages to your e-presentation viewers within the e-presentation and your viewers can continue to post questions or comments to your e-presentation, to which you can respond. This discussion will be attached to your e-presentation and can continue after the event.