To access your domain's Stack Store and create stacks with the Stack Editor, you need to sign in at my.ltb.io.  Once you have signed in, you can navigate the site using the top and bottom menu bars.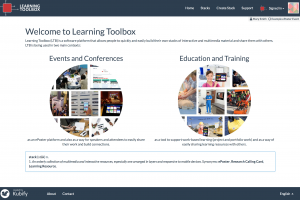 Here is a brief description of the different menus that you see in the Stack Store & Stack Editor.
Home

: The front page of the LTB Platform.

Stacks

: The main access to the Stack Stores for the domains that you are a member of. Here you can find the stacks that you own and those from other users, the stacks that are your favourites, and stacks that you have deleted.

Create Stack

: To create a new stack.

Support

: Links to this online guide and other support features.

About

: Has the version number and last release date.

Contact

: A contact form. We are always very keen to listen to your questions and suggestions.

English / Español / Deutsch / Nederlands

: Select your language here. Currently we support English, Spanish, German, and Dutch.