This page contains some information to help you get started making your ePoster for the Hub as well as answers to frequently asked questions.
Tamsin will also be in the Hub on most Wednesdays, so just email (tamsin@kubify.co) to let her know if you would like any help when she is in.
We hope you enjoy creating your ePosters. We're looking forward to seeing what you create and finding out more about your businesses.
Getting started
Kubify is offering Leeds Hub members the opportunity to increase their visibility in the Hub in a way that help us all to find and connect with fellow Hub entrepreneurs.
All Leeds Hub members will be able to use Kubify's Learning Toolbox to create an ePoster presenting their business. These ePosters will then be displayed in the Hub, giving us all an overview of who is here, what they do and how to contact them.
You will be able to include links to multimedia and interactive material such as videos, online tools and apps within your ePoster. You don't need to make new material, it is just about choosing which existing information you have that you'd like to highlight to your fellow entrepreneurs and then adding that to your ePoster.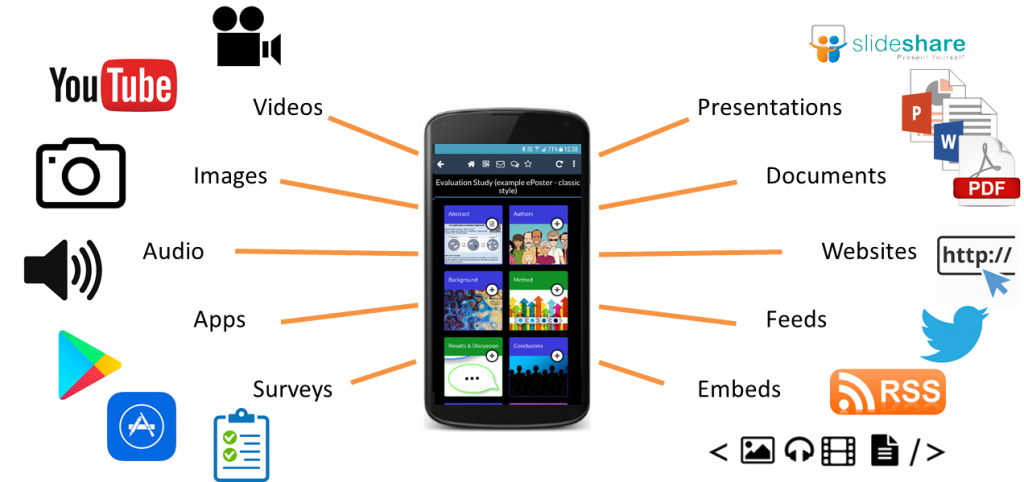 Learning Toolbox ePosters are actually hybrid ePosters. It's not all E! There is still a paper part involved. Your ePoster consists of a paper mini-poster and your interactive ePoster. You make both of these within Learning Toolbox.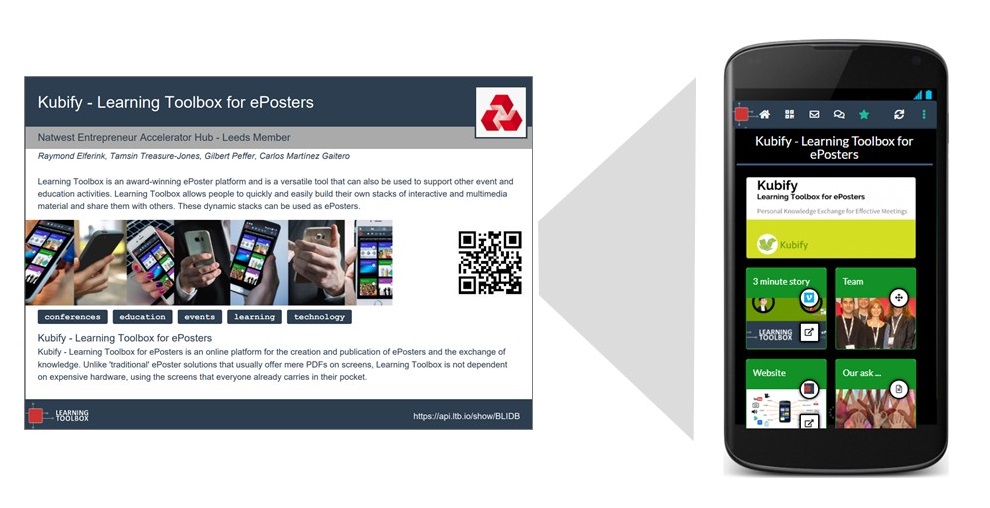 The mini-posters will be printed and displayed on a wall in the Hub. People will be able to browse the mini-posters and then view and explore your ePoster on their smartphones or tablets by scanning the QR code on your mini-poster. To scan and view the ePosters people can either use a standard QR code scanner and open the ePoster in their web browser or download the free Learning Toolbox app and open the ePoster in that.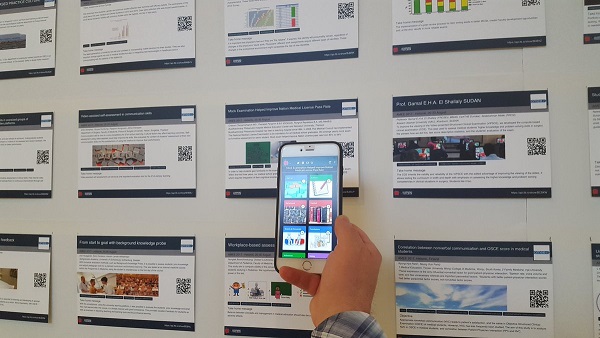 The ePosters can also be published to the NatWest Hub Showcase website that will be created by Learning Toolbox. Here you will be able to search for ePosters by title, author or tags.
The aim is to have everything finished by 30th October, so that we can print and display the mini-posters and publish the Posters. But the ePosters are never locked, so you will be able to continue to edit and add to the ePoster even after that date.
Answers to Frequently Asked Questions (FAQs)
Co-authors
Currently Learning Toolbox does not support live collaborative editing of an ePoster by multiple authors. Instead each ePoster has one person who takes on the editing author role.
​
If you have been sent an invite link to create an ePoster for a conference, then the first person who follows that link will be given the editing role.
The person who takes on the editing author role will be able to add their co-authors' names to the ePoster by adding their names in the
Stack Poster Details Tab
and can also specify who will appear in the summary view as the
Named Author
. However, their co-authors will not be able to edit the ePoster.
The editing author can also share the link to the ePoster with their co-authors (
How do I share an ePoster from my computer
) so that their co-authors can view the developing ePoster and email them with any feedback or suggestions. If they do this then they should make sure they change the ePoster permissions from Private to Hidden and Anonymous Access (
How do I set access permissions
) before sending the link to their co-authors.
If your co-author has followed the invite link after you then they will get a message explaining that the link has already been used. If you would like to switch the editing role to them then just contact support (the team who are supporting your use of Learning Toolbox) and they will be able to do this for you.
The Named Author space (1) allows you to decide which author's name you want to appear on the summary view of the stack/ePoster in the showcase.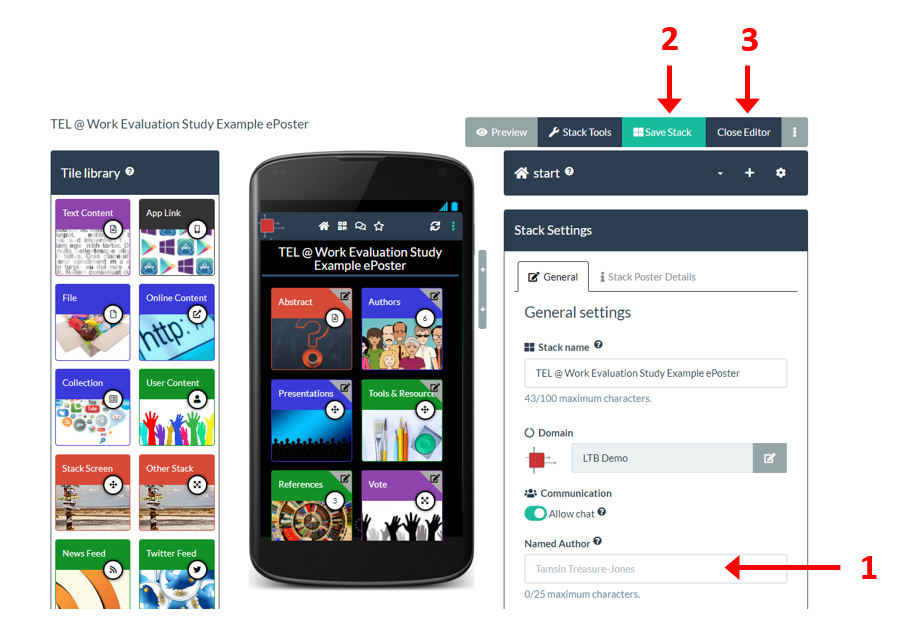 The default is that the editing author's name will appear here, but you can change this to a different name. If you then save (2) and close the editor (3) then you will be able to see where the Named Author appears in your stack/ePoster's summary view (4).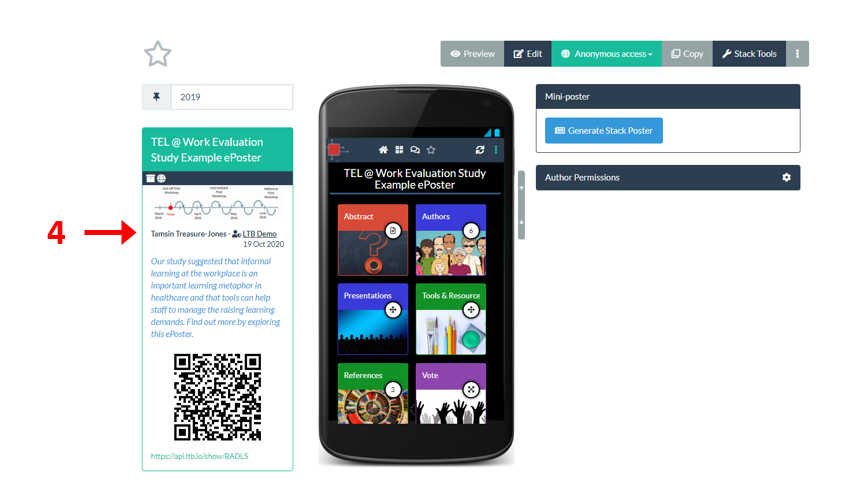 There is a character limit of 25 for the Named Author to ensure that it can be displayed within the summary view. This means you will not be able to list all the co-authors of a stack/ePoster within the Named Author space. Although you can use the academic convention of et al. to indicate within the Named Author space that there are more authors (e.g. I could edit the Named Author to be "T. Treasure-Jones et al.")
You can also add all your co-authors details within the stack/ePoster itself. Many authors add a Text Tile listing all the co-authors. Another possible approach is to add a new Screen and on that new screen to add a Tile for each author which links to their professional webpage.
Adding content and resources to my ePoster/stack
Changing the layout and appearance of a tile
Adding an extra screen/layer to my ePoster/stack
If you are adding a lot of material to your stack then you may find it useful to create an extra screen. You can do this by using the Stack Screen tile. This will allow you to add a tile that creates and opens a new screen.
To create an extra screen:
Add a stack screen tile to your stack (1)
The settings area will show which screen that tile is currently pointing at. Click on the down arrow (

2

) next to the target screen name and then choose "Create New Screen" from the menu that appears.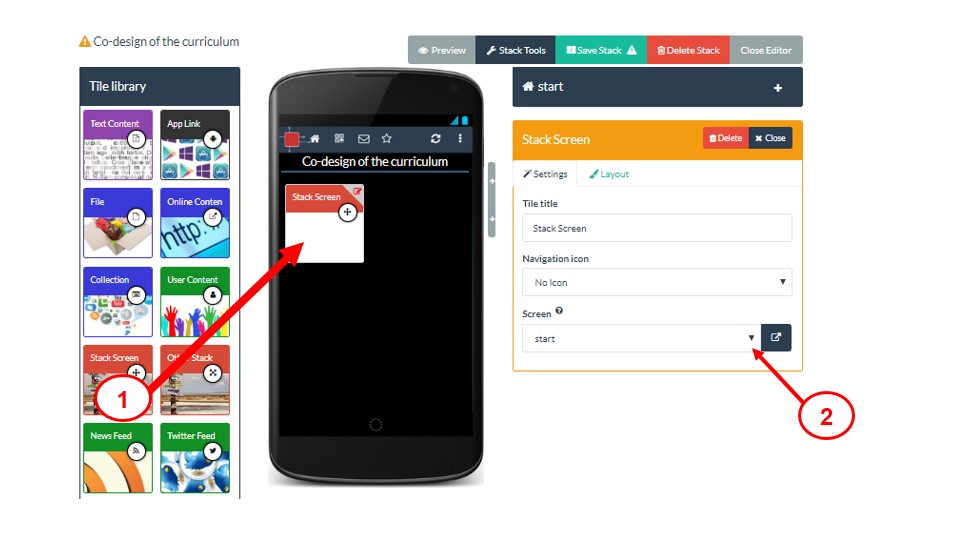 This will immediately create a new empty screen (which will be connected to the stack screen tile you added) and move you to that empty screen
It will give it a default screen name (

3

) which you can edit and change to something more meaningful
You can now add new tiles to this screen as normal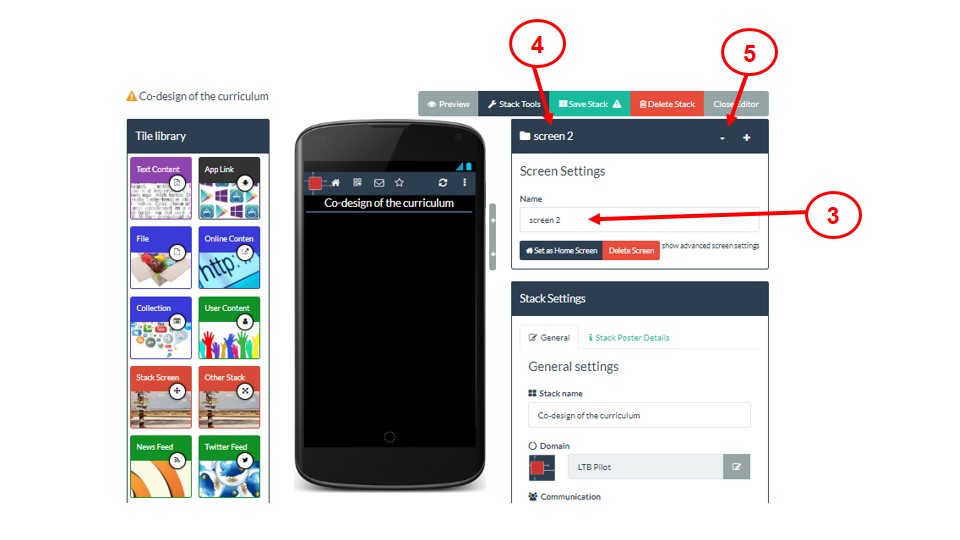 Note that there is always a bar visible in the window that shows you the name of the current screen you are editing (

4

)
When you want to move to another screen (e.g. back to the start screen) you can just click on the menu next to the current screen name (

5

) and choose the name of the screen you want to move to
Viewing and testing my ePoster/stack
If you want to preview and check your ePoster in a web browser then you can just press the preview button (1) and the ePoster will open in the viewer. What you see here is what your ePoster viewers will see if they are viewing your ePoster in a web browser on a computer or tablet. From here you can click on the tiles (2) and check that it is working as you expected. Once you are finished then just click on the X button (3) to close the viewer and return to the editor.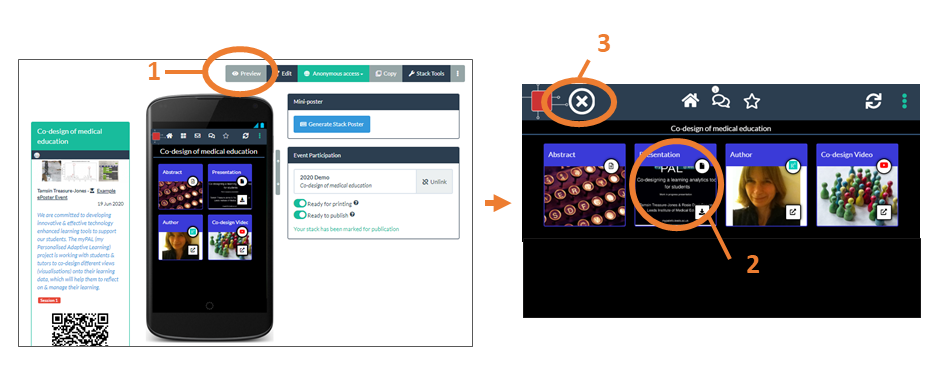 What you see in the preview is exactly what the conference organising team sees when they check and publish your ePoster. So the preview allows you to be sure the ePoster is working as you want and you know that the conference team will see exactly the same.
You can change the permissions of your stack to determine who can open it and whether it shows up in searches.
To do this sign-in and open your ePoster as usual, but do not click on the Edit button. Instead next to the Edit button you will see the access permissions button that indicates what permissions your stack currently has (Private, Restricted or Public). If you are still developing the stack then it is probably still set as Private. If the conference has just finished then it is probably set as Public. 
Click on that access permissions button and you will see the drop down menu allowing you to change the access permissions for your stack.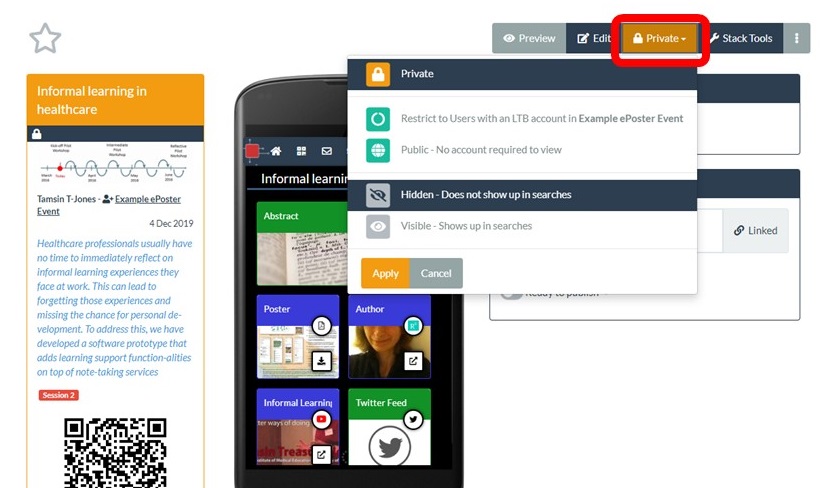 If you are still working on the stack but want to share it with others (perhaps your co-authors) so they can see what you have done, then you should change the permissions to Public and Hidden. This will mean that only people who have been sent the QR code or web address for your stack will be able to open and view it. 
If the conference has finished and you do not want your stack to be accessible any longer then you should change the permissions to Private.
If your stack is still Private then you should first set its access permissions to Public and Hidden (See How do I set access permissions?) then follow the steps in this video.
Creating my mini-poster and finalising my ePoster/stack
Exploring and sharing published ePosters/stacks
Engaging with the viewers of your ePosters/stacks