IMPORTANT: If you are an ePoster author for an event, restrictions apply to co-authoring. Please go to the corresponding support page for event authors: https://support.ltb.io/eposters-faq/#co-authors
First up, a note of caution regarding co-authoring a stack. While multiple authors can edit a stack, Learning Toolbox does not support live collaborative editing where multiple authors edit a stack at the same time. If two authors make changes to a stack at the same time, the one who is working on the earlier version will not be able to save the changes they have made to the stack. We therefore recommend that each stack should have one person who takes on the editing author role and that if you have co-authors, you pass the editing role on to your co-author once you have made your contribution to the stack.​
By default, only domain administrators can add co-authors. However, the administrator can allow domain authors to also add co-authors by enabling this in the domain settings.
To add a co-author, go to stack view mode, click on the little cogwheel to open the author settings, and start typing the user name or their email address. Any user that matches the search string and that is in the domain where the stack is will show in the dropdown.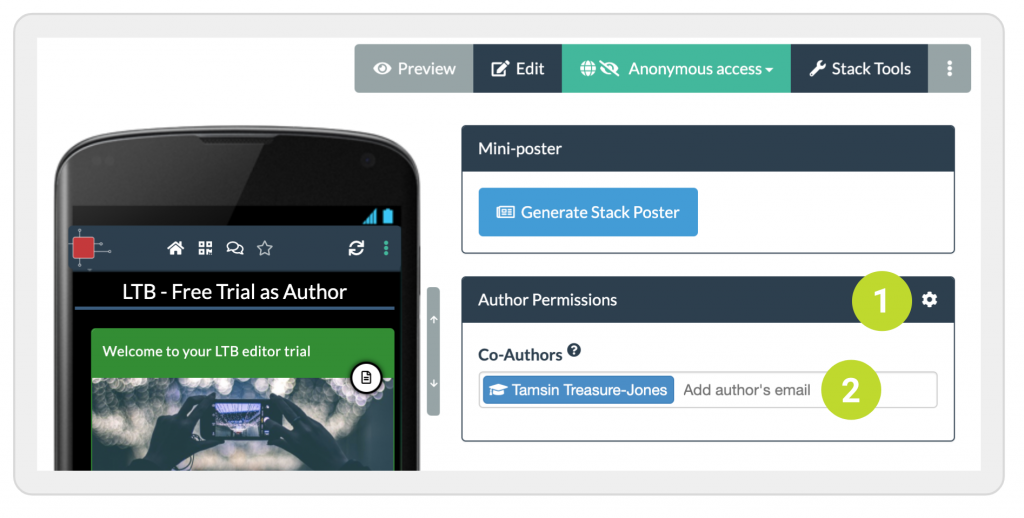 Note: the setting Named Author in the Stack Settings DOES NOT add a co-author, but only changes the name that shows on the stack summary badge.